"Duty Country Honor" by the C.R. Ecker Band Takes Center Stage as a Patriotic Country-Rocker for Freedom Lovers and Its Defenders
"Duty Country Honor" is directed toward Americans and their allies who treasure freedom and to the men and women who put life and limb on the line to defend it. This uptempo anthem, from Charles Ecker and Michael Stanton of Los Angeles, is one of only a few Patriotic songs to come out of the Country Music genre since 9-11, and its message in support of all nation's willing to uphold freedom here and abroad is clear, with the key line, "Kick Up the Good, Knock Down the Bad," anchoring the song.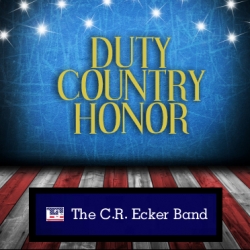 Playa del Rey, CA, May 19, 2017 --(
PR.com
)-- Charles Ecker served four years in the U.S. Air Force, which included a one year tour of duty in South Korea, near the DMZ. Michael Stanton donated 78,000 copies of his noted "Ladies' Night" CD to troops serving overseas through the charitable group, Soldier's Angels.
Ecker and Stanton have a deep love of country in this apolitical tribute to not only America, but Allied countries as well.
One of the key lines which would be appreciated by all men and women who have served in the military is "kick up the good, knock down the bad," a clearly understood message in words troops could say on the front lines.
Stanton produced "Duty Country Honor" at his Bud Ranch Studios in Valencia, California. He also led The C.R. Ecker Band with his searing and soaring lead vocal performance.
Over the past six years since its formation, The C.R. Ecker Band as a group, or Charles Ecker as a songwriter, has accumulated over 20 competitive music awards among organizations including The Los Angeles Music Awards, Hollywood Music in Media Awards and Independent Country Music Association.
The band was named "Country Band of the Year" at Independent Music Network and Starliner's Europe in 2013. In 2016, Ecker garnered "Career Country Songwriter" honors spanning the 25-year history of LAMA.
Contact
Charles R. Ecker Music Publishing
Charles Ecker
310-823-5716
thecreckerbandmusic.com

Contact