Dynamics Software Maintenance Management Available on Microsoft Dynamics 365 for Operations
Dynamics Software, a leading provider of solutions based on Microsoft Dynamics 365, announced today that its Maintenance Management solution is available on Microsoft AppSource for Dynamics 365 for Operations.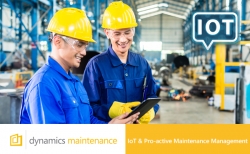 Veenendaal, Netherlands, May 16, 2017 --(
PR.com
)-- The latest release of
Maintenance Management
, a Dynamics Maintenance solution from Dynamics Software, takes advantage of the innovative capabilities in Microsoft Dynamics 365 for Operations, the company's flagship enterprise solution built on and for Microsoft Azure.
Available on Microsoft AppSource, Maintenance Management increases overall equipment effectiveness, optimizing uptime and utilization. The health of equipment has considerable impact on the productivity and efficiency of any plant and consequently determines the profitability of an organization.
Maintenance Management from Dynamics Software gives real-time information across the business by optimizing its plant's preventive periodic maintenance and internal maintenance requests and repairs. At the same time, Maintenance Management provides direct access to all the data needed with regards to equipment, resources and logistics. Maintenance Management on Dynamics 365 for Operations provides an agile, powerful, end-to-end solution ensuring reliability and enabling optimal availability of internal assets and equipment.
"We are proud to have our solution available for Microsoft Dynamics 365 for Operations on Microsoft AppSource," said Eric Veldkamp, Partner and Executive Director Sales & Marketing at Dynamics Software. "With this latest release, we are able to further enhance processes and accelerate productivity for our customers, delivering effective solutions that make a significant difference to them. Optimal operational availability of assets and equipment powered by Dynamics 365 for Operations and Dynamics Software Maintenance Management."
Tony de Freitas, Senior Director, Dynamics Channel Strategy and Program, Microsoft Corp. said, "We're pleased to see the work Dynamics Software is doing to benefit our mutual customers. The availability of Dynamics Software Maintenance Management on Microsoft AppSource offers companies a chance to trial and select an enterprise asset management solution that delivers overall equipment effectiveness and enables predictive maintenance."
Contact
Dynamics Software
Monisha Ghosh
+31318507800
www.dynamicssoftware.com
+31646811261

Contact