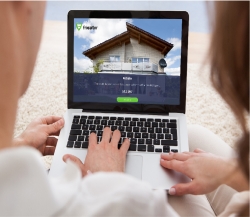 Washington, DC, May 16, 2017 --(
PR.com
)-- A team of local property specialists has won the "race to zero" by becoming the first Metro Area agents to successfully close a commission-free real estate transaction, the online service Friealtor announced today.
Friealtor said the race was won when a Gaithersburg, Maryland, couple in April utilized the service for help sell a $449,000 single-family home. Because the sale involved zero commission, the couple avoided paying approximately $13,000 to the agents, Friealtor reported.
"Zero commission means homebuyers can reap potentially substantial savings," said William McCoy, co-founder of Washington, D.C.,-based Friealtor. "These are savings that can be applied toward renovation or remodeling costs, or set aside for a rainy day.
"Most important, zero commission gives buyers extra power to negotiate a lower sale price while also allowing sellers to still achieve the margins they need to make. So, it turns out that in the race to zero, everybody's a winner."
How Friealtor Works
McCoy explained that the "race to zero" refers to a contest of sorts among Millennial real estate agents who in recent years have competed to trim commissions will making make real estate more intuitive. Agents customarily charge a commission of 6 percent of the sale price, but 5 percent is more the current norm, according to
Realtor.com
.
"Until Friealtor came along, the lowest commission locally was 1 percent – that's the amount agents with the Redfin brokerage take for properties they sell in the Metro Area," McCoy said.
Here is how Friealtor works. A buyer or seller looking to pay zero commission subscribes to Friealtor for access to experienced real estate agents. Although the agent is commission-free, they still provide traditional assistance. Such as listing and buying homes, putting together offers and counteroffers, and preparing all the paperwork ahead of a closing. All while using an intuitive platform and mobile application designed specifically for real estate, said co-founder Praveen Nerellapalli.
"Prospective users of Friealtor sometimes mistakenly believe that zero commission means the agents are going to provide limited service," Nerellapalli said. "They're thinking you get what you pay for, and if you pay nothing in commission then the house is just going to sit there or the deal isn't going to get done. Not true."
A subscription to Friealtor costs $300 per month, Marissa Sens co-founder revealed. The subscription ends when the home sale closes or client no longer needs the real estate agent's assistance.
"The typical Friealtor subscription will be short term," Nerellapalli predicted, "because homes right now are moving so fast. Nationally, the median time a home is on the market is just
49 days
. In the D.C. Metro Area, the median time is 12 days."
Friealtor Especially Appeals to Millennials
Friealtor co-founder Marissa Sens explains that the majority of subscribers are millennials.
"The Friealtor commission-free real estate sales concept holds special appeal to millennials," Sens said. "Millennials now make up the largest segment of the homebuyer market nationally. However, they also face some of the most significant money hurdles. So they're interested in anything that can save them money, while providing value. And Friealtor certainly saves money."
According to Sens, millennials find Friealtor a natural fit. This is because it provides education, transparency, technology as a service, and support from a trusted real estate agent.
"Millennials – and I'm one myself – were raised on the idea that the best way to get needed services is by subscription or from a platform offering services at no cost," she explained. "We also like being empowered and able to do on our own, which is what the use of Friealtor promotes."
Fellow millennial McCoy said Friealtor is in sync with at least one other value embraced by younger adults. It is the desire to disrupt the old way of transacting and communication.
"Many have tried different ways to disrupt the sales model that has long governed real estate," he said. "To me, the race to zero commission represents the biggest disruption of all. We are extremely excited to have won this race, and to have won it right here in the D.C. Metro Area."
McCoy said Friealtor launched earlier this year. The website – www.friealtor.com – is accessible without a subscription. And to those who are wishing to see the savings potential of a commission-free real estate sale, they show it clearly on the site. With Friealtor's successful adoption in the market, their hope is to expand this model quickly to other cities throughout the U.S.
For more information, contact:
William McCoy
Phone: 866-925-6748
Email:
support@friealtor.com
www.friealtor.com