Hibernian Home Care Receives 2017 Best of Home Care® – Provider of Choice Award
Hibernian Home Care's compassionate service and dedication to making a difference in their client's lives earns them recognition in Home Care Pulse Best of Home Care® Awards, making them among the very best at providing senior care services in Monmouth and Ocean Counties of New Jersey.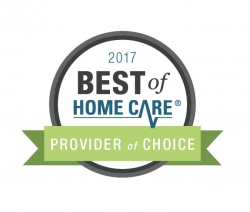 Howell, NJ, May 17, 2017 --(
PR.com
)-- Hibernian Home Care announced today that it has received the 2017 Best of Home Care – Provider of Choice Award from Home Care Pulse. The Provider of Choice Award is granted only to the top-ranking home care providers, based on client satisfaction scores gathered by Home Care Pulse, an independent satisfaction research firm for home care. Hibernian Home Care is now ranked among a select few home care providers across the country who have proven their ability to provide outstanding care.
"We want to congratulate Hibernian Home Care on receiving the Best of Home Care – Provider of Choice Award," says Aaron Marcum, CEO and founder of Home Care Pulse. "Since this award is based on client feedback, it demonstrates their dedication to providing the highest quality of care with a focus on client satisfaction. We are pleased to recognize Hibernian Home Care's dedication to quality professionalism and expertise in home care."
Best of Home Care – Provider of Choice award-winning providers have contracted with Home Care Pulse to gather feedback from their clients by conducting live phone interviews with their clients each month. Because Home Care Pulse is a third-party company, it is able to collect honest and unbiased feedback. Hibernian Home Care has earned the 2017 Best of Home Care – Provider of Choice award in the following satisfaction categories measured by Home Care Pulse: Ability of Caregivers, Confidence in Office Staff, Communication from Provider, Client/Caregiver Compatibility, Service as Expected, Recommend Provider and Daily Life.
"Our company goals are to provide a level of care that leads the industry and makes a significant positive impact on our clients lives. Being awarded this distinction shows that we are accomplishing the standard we set for ourselves," says Roger Benedetti, President of Hibernian Home Care. "We are very proud of the service we provide and the caregivers who assist our clients and their families."
"This award reflects our company's values and commitment to provide exceptional service to our clients and team members," says Cathy Benedetti, Vice President and Director of Nursing. "We feel privileged every day to provide quality care services to clients in need. Allowing Home Care Pulse to independently audit our clients and caregivers provides consistent feedback and validation that we are fulfilling our mission."
"Our goal at Home Care Pulse is to empower home care businesses to deliver the best home care possible," says Aaron Marcum. "We are happy to recognize Hibernian Home Care as a Best of Home Care – Provider of Choice and to celebrate their accomplishments as a trusted home care provider."
About Hibernian Home Care
The company was founded and is operated by a Registered Nurse and a Pharmacist with over 40 years combined of direct patient care experience. This background is unique in the Home Care industry. By having such extensive training and knowledge of disease states and medications, our executive team at Hibernian Home Care understands the importance in maintaining one's health in providing senior care. We establish an exclusive connection with an individual and their family to enable our clients to thrive, while preserving and improving the quality of life, all in the comfort of their own home. To find out more about Hibernian Home Care's commitment to excellence, please visit HibernianHomeCare.com or call (732) 481-1148.
About Home Care Pulse
Home Care Pulse is the industry's leading firm in satisfaction research and quality assurance. On behalf of home care businesses across North America, Home Care Pulse gathers unbiased satisfaction ratings from clients and caregivers and detailed feedback to ensure the best in-home care possible can be provided. Powerful online reports allow businesses to identify needs and take action to reduce increase satisfaction, reduce caregiver turnover, and address client needs. For more information, please call Home Care Pulse at (877) 307-8573 or visit HomeCarePulse.com.
Contact
Hibernian Home Care
Roger or Cathy Benedetti
(732) 481-1148
HibernianHomeCare.com

Contact