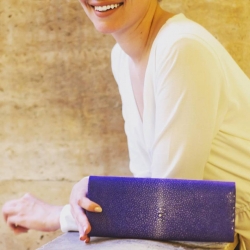 Chicago, IL, May 19, 2017 --(
PR.com
)-- Chicagoan Julie Neff noticed a void in the fashion marketplace. "The luxury market is saturated with bags and accessories emblazoned with the designer's logo. There wasn't really anything out there for the woman who wanted to carry beautiful luxury bag without being a walking advertisement for the brand." That realization coupled with her personal love of accessories and a degree in Fashion Merchandising led her to launch J. Markell, a collection of handbags and accessories that celebrates the notion of inconspicuous luxury.
The J. Markell collection combines the rich colors and textures of authentic exotic skins with high quality leather and hardware to create pieces that are as versatile as they are beautiful (and completely void of an external label.) Sleek and modern with just a hint of opulence, these pieces can seamlessly go from day to night – making them ideal for a woman's busy lifestyle. The current collection consists of 15 styles, available in a wide variety of different colors.
While solidifying the collection, designer/owner Neff became aware of a common predicament many women find themselves in. "There are a lot of savvy shoppers out there who really love the look of gorgeous exotic bags but don't feel comfortable with the general practices that go into collecting the skins used to make them." As such, all designs are made using by-products of a food source. Crocodile, snake and stingray (skate wing) are all popular ingredients in diets around the world – J. Markell bags and accessories are made from the hides of those animals used for food, ensuring that no creatures are unnecessarily harmed.
J. Markell
is now available in over 40 boutiques nationwide and online (bags can be shipped almost anywhere internationally.) J. Markell bags and accessories are priced between $150 - $2800.