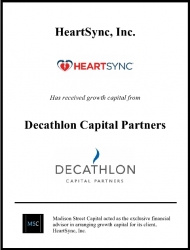 Chicago, IL, May 19, 2017 --(
PR.com
)-- Madison Street Capital ("MSC") acted as the exclusive financial advisor in arranging growth capital for its client, HeartSync, Inc. ("HeartSync"). The facility was provided by Decathlon Capital Partners. The transaction was announced today by Charles Botchway, CEO of MSC. Madison Street Capital Senior Managing Director Barry Petersen led the transaction. Terms of the transaction were not disclosed.
Barry Petersen noted, "Stephen and Stuart Shulman have positioned HeartSync to become a very strong participant in this niche of the healthcare device market. This growth capital tranche from Decathlon will facilitate the next steps in their growth plans, continuing their expansion of service offerings to their expanding customer base."
"Our experience with Madison Street Capital was excellent. Barry Petersen led the transaction and got us a strong commitment very quickly," said Stephen Shulman, Co-founder and CEO of HeartSync.
About HeartSync
Headquartered in Ann Arbor, Michigan, HeartSync was co-founded in 2007 by father and son team Stephen and Stuart Shulman. HeartSync designs and manufactures cardiac resuscitation products, 90% of which are disposable multifunction defibrillation or pacing electrodes. The company offers unique features to their products and follow-up services while targeting collective organizations that pool purchasers of its products, such as hospital groups and group purchasing organizations (GPOs). A significant source of growth for HeartSync with these customers has been white labeling its product line, which, along with its competitive pricing, makes HeartSync especially attractive and helps position it for strong growth moving forward. For more information please visit
www.heartsync.net
About Decathlon Capital Partners
Decathlon Capital Partners is a leading provider of innovative financing solutions and growth capital for companies seeking flexible alternatives to traditional equity investment. By partnering with companies around revenue-based financing solutions, Decathlon is able to provide long-term growth capital without the dilution, loss of control and operational overhead that comes with equity-based funding. Decathlon works with companies across a wide range of industry segments and U.S. geographies to provide company-friendly funding solutions that are customized to help each business reach its full potential. To learn more about how Decathlon can help your company achieve its objectives with flexible revenue-based financing solutions please visit
www.decathloncapital.com
About Madison Street Capital
Madison Street Capital is an international investment banking firm committed to integrity, excellence, leadership and service in delivering corporate financial advisory services, merger and acquisition expertise, financial opinions, and valuation services to publicly and privately held businesses. These services position our clients to succeed in the global marketplace. In undertaking each new project, the client's goals and objectives become ours, ranging from financial advisory and successful capital raises to M&A transactions to transfers of ownership. Madison Street Capital views emerging markets as the core component driving the global growth of our clients, and will continue to focus significant assets on these markets. Our firm has earned the trust of clients around the world through our unwavering dedication to the highest levels of professional standards. For additional information, please visit our website at
www.madisonstreetcapital.com