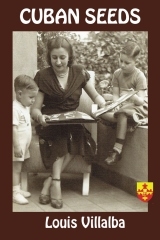 Jupiter, FL, May 23, 2017 --(
PR.com
)-- Chelo fled Cuba in search of freedom in 1961. Born in a small village near Havana in 1921, she married Adolfo Llano in 1944. The newlyweds resided in Artemisa, the cradle of the revolution, where they met Ramiro Valdez and Ciro Redondo, eventual participants with Fidel Castro in the assault to the Moncada Military Headquarters in 1953 and the Granma yacht expedition in 1956. The Llanos enjoyed their two sons and prosperity. In 1959, Fidel rose to power, cut short their bliss, and confiscated their possessions - bank accounts, buildings, business, home. As Chelo put it, they ran away from the island "covering their forepart with a hand and their rear with the other." Pieces of furniture discarded by neighbors provided their rented apartment in Chicago with the necessary comforts. She worked as a seamstress, and he opened the first Spanish grocery store in Chicago. Despite the inclemency of Chicago weather, husband and wife left home before dawn and ended their daily toils at midnight. Adolfo died in 1978, but Chelo continued to strive and steer their children and grandchildren into the American elite.
"Cuban Seeds" (ISBN: 1541185528) Floricanto Press, December 19, 2016. The book has 207 pages and can be purchased on Amazon, https://www.amazon.com/Cuban-Seeds-Louis-Villalba/dp/1541185528, for $ 24.99. Read the free sample of "Cuban Seeds" at the author's blog page http://TheClassicWriter.com/Cuban-Seeds
About The Author:
Louis Villalba was born in Cadiz, Spain, and has resided in the US since 1970. His first book, The Silver Teacup (Createspace, 2012) or its Spanish version, La Tacita de Plata, contains short stories that take place in his hometown in Spain, shuttling the reader to a world of history, human drama, and fantasy. Kirkus Indie Review praised his novel The Stranger's Enigma (Createspace, 2014) as "a provocative character study of a man facing a personal and professional crisis." Afterlife Tracks: Glimpses of the Occult (Createspace, 2015), his first non-fiction work, narrates his experience with paranormal events in his neurology practice. In his blog www.theclassicwriter.com, Louis Villalba shares his work and enthusiasm for classic authors' English prose with his readers.
Review Copies and Media Interviews:
Villalba is available for media interviews. Contact him at louis@louisvillalba.com, or call 561-401-0668. He is also available for speaking engagements and interviews on short notice. Reviewers, please specify how you'd like to receive a copy of the book.