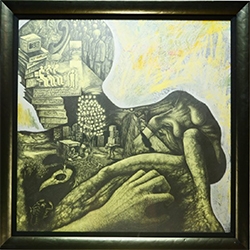 Laguna Beach, CA, May 24, 2017 --(
PR.com
)-- Discover Emerging Artists Showcase, which offers accessibly priced original art created by today's most exciting emerging talent worldwide, is opening a new gallery in Laguna Beach on June 1st, 2017.
The gallery started out as an online venture (
www.DiscoverEAS.com
) by art lover and entrepreneur, Michelle Pearl.
"Every great master started as a struggling emerging artist," Pearl explains. "And yet the world is filled with truly talented artists whose work never gets seen. I love searching for and finding undiscovered talent. It's the ultimate treasure hunt!"
Pearl wanted to do something where she could merge her background in running an internet business with her passion for art.
"I started the online gallery with the idea of making a unique online experience by creating a video art gallery. We make a mini-movie for each work of art - accompanied by an evocative soundtrack. But I found that there are still aspects of the artwork that get lost over the internet. The colors often aren't as bright or as true, incredible details can be missed- and that emotional connection that a spectacular piece of art can create often just doesn't happen as easily when looking at art on a computer monitor."
In addition to one-of-a-kind paintings and sculptures, the gallery features other fine artworks such as art glass pieces, pencil artist's work, charcoal renderings, unique art purses, art jewelry, and more. Pieces in the gallery are priced from $50 to $1500.
Michelle Pearl is proud of the fact that Discover Emerging Artists Showcase only sells original artwork.
"We do not sell prints, lithographs, serigraphs, etchings or giclées. Every piece of in the gallery was brilliantly conceived and then skillfully handcrafted by one of the over 70 international artists whose work is featured."
Artists from over two dozen countries are represented by the gallery including Serbia, the UK, Australia, Japan, France, Germany, Spain and of course, the U.S.
Discover Emerging Artist Showcase has a unique approach to supporting artists whose work might otherwise remain unseen. Artists who live outside of California can submit pictures of their work online to the gallery for purchase consideration. If the work is chosen, the gallery then buys it directly from the artist. Once received, Discover Emerging Artists Showcase then professionally frames or mounts each piece in preparation for display and sale, if needed.
For California artists, the gallery considers work submitted online for 1-month gallery exhibitions and sales.
Michelle Pearl explains why the word "Discover" is integral to the name of her business. "Sometimes we will buy a few pieces of art from artists and they will tell us that it is the first sale that they have ever made. Now that's exciting!"
When considering the location as to where to open a brick-and-mortar extension of her online gallery, Pearl says that Laguna Beach was her first and only consideration.
"I am lucky enough to live near the incredible artist community of Laguna Beach. I was once told that Laguna Beach was second only to New York with regards to the amount of art sold in any city in the US. I have unsuccessfully looked all over trying to find something that corroborated that statement. Nevertheless, all one need do is drive through the city where everything from the local gym to the local college has the word 'art' proudly displayed in their titles. From the amazing annual Pageant of The Masters to the monthly First Thursdays Art Walk, the entire community is a living, breathing art canvas."
The grand opening of the Laguna Beach gallery will be on June 1, 2017, during the Laguna Beach First Thursdays Art Walk. There will be a raffle for two sculpture artworks by polymer clay sculpture artist Mira Krispal of Isreal, entertainment by local singing guitarist Mike Wilson, a caricature artist creating free caricatures, and complimentary refreshments beginning at 6:00 PM. The Laguna Chamber of Commerce will be on hand to help celebrate the gallery opening with a ribbon cutting ceremony, as well.