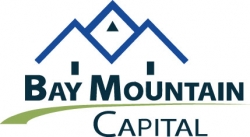 Dallas, TX, June 07, 2017 --(
PR.com
)-- Bay Mountain Capital, a direct lender that has been providing short term financing to Texas real estate investors since 2009, has launched a new, interactive website to create a more convenient investment experience for borrowers.
Phil Sanchez, the partner responsible for finance, legal and investor relations for Bay Mountain, said, "We have been getting excellent feedback on the interactive 'deal calculator' feature installed on the new website. Prospective borrowers appreciate the ability to input their deal assumptions and then have instant access to the financial cost and return projections of their real estate business plan. At Bay Mountain, we know that each scenario is as different as each borrower."
The mobile-friendly site also includes many frequently asked questions, helpful information for borrowers, informative videos and the ability to apply for a loan directly from the website. Bay Mountain Capital strives to swiftly provide hard money financing at fair pricing for qualified real estate investments.
Dean Lontos, managing partner of Bay Mountain Capital added, "We aim to be the best in our industry. Our new, interactive website streamlines the investment process and gets borrowers their capital as quickly and smoothly as possible. Once a client has submitted an application, we are able to fund a transaction in as little as a couple weeks and in some cases within a matter of days."
Bay Mountain assists in a variety of investments categories such as:
- Acquisition and renovation
- Distressed properties
- Bridge to lower cost refinance
- Cash out refinance
- New construction
- Non-owner occupied single-family
- Multi-family, commercial and land
Bay Mountain Capital, located in Dallas, Texas, has provided loans for more than 1600 individual residential and commercial properties since 2009.
For more information contact:
Phil Sanchez, Investor Relations, at 214-953-3188 ext 1 or visit
https://www.baymountaincapital.com/