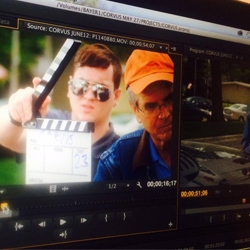 Kansas City, MO, June 12, 2017 --(
PR.com
)-- What-if's are important. They help people dream, set goals, and determine strategies for themselves and their businesses. At Illumina Filmworks, they pride themselves on translating these what-if's into reality. Through their expertise in corporate video, social media, drone services, and TV commercials, they help their clients bring visions to life, implement change, and see results. Illumina works hard to give their clients the very best, and their success makes them proud. That's why they couldn't be more proud to see there clients sharing their success on Clutch.
Clutch is a DC-based research firm leading the charge with ratings and reviews for business-to-business service providers. The platform covers hundreds of companies across the creative, marketing, and advertising segments, and it relies on over a dozen unique criteria to determine the best of the best agencies. Illumina is proud to have been analyzed on Clutch's rigorous methodology and featured in their video production research.
Their clients played a key role in Clutch's analysis of Illumina. The firm spoke directly with Illumina's clients in short, interview-style conversations that delve into each client's satisfaction with our performance and customer service. These clients each gave Illumina perfect scores in their reviews and have helped them achieve their competitive stance on the platform. Here are some of the things these clients have had to say:
One client, an insurance company, highlighted the response to Illumina's work:
"The video has been a tremendous success. Between Illumina's and our entries, we've garnered three national awards for the film. This past December, we received a PR Newswire Diversity and Inclusion Award. I flew with our diversity leader to the National Press Club in Washington DC to accept that award. I think the best quote was when our CEO said, 'This looks like a Wall Street quality advertisement.' I thought that was pretty high praise. We have clients who want to know what our commitment is to diversity and inclusion."
When another client, an HIV/AIDS Nonprofit, was asked what makes Ilumina Filmworks unique, they responded:
"Illumina Filmworks is a corporate company. The work we do is about the heart; it's about lives. It's very fundamental to have that balance communicated to people. I love that Illumina can get the business component, but they always bring the heart back into it. I've seen some organizations in my line of work who get the heart part right, or they get the technical part right, but very rarely do they get both of those right and bring them together. Illumina just knows how to bring the technical part to the audience, and they also always bring the heart to the audience. That is so important in my line of work. They have a way of striking that balance. It's like a Jedi mind trick. I don't know how they do it."
Finally, a heavy industry client highlighted Illumina Filmworks adaptability in the field:
"We're working in heavy industry, we're in mining environments, and we've even shot on location in an underground mine. When we talk about being in the field, we're talking about manufacturing facilities, quarries, sand and gravel operations, etc. It helps if you're knowledgeable about those environments when you go in to shoot a video. We don't have to spend a lot of time talking about the equipment or safety issues with Illumina because they understand. That's the advantage of using them in those settings because they are already aware of the constraints that we have when doing these projects."
Illumina Filmworks is proud of the relationships they have formed with some incredible partners, and they couldn't be more pleased that their work is yielding the results they came for. To find out more about why our clients have left Illumina Filmworks a 5-star score, check out Illumina Filmworks Clutch profile.