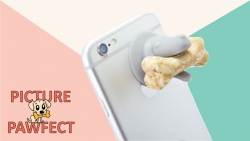 Fort Lee, NJ, June 13, 2017 --(
PR.com
)-- Picture Pawfect, a New Jersey-based startup development company that has worked to create a photography solution, which results in picture-perfect pet photos every single time, this June 13th will officially launch their crowdfunding campaign on Kickstarter.com for garnering widespread support and the necessary financial backing to make expansive distribution possible.
Borne from a passion for taking pictures of beloved pets in an effortless and easy manner, Picture Pawfect is a simple device that attaches to the back of any mobile device while seamlessly supporting a pet treat. The result is an attentive and inquisitive pet, happy to pose for any type of photo.
"Pets have always been popular subjects for photos, especially today with the popularity of social media," said Alex Kang, Founder and Owner of Picture Pawfect. "Now that anyone can snap a masterful photo and post it on Instagram, we're seeing more people share their pets – and even make a profit off of it. Since getting a cat or dog to sit still for the perfect photo can be a nightmare, we developed a product that makes the whole process picture-perfect."
The Picture Pawfect product comes in mint, grey, and pink, all made from Silicon. The product clings to the digital device using a suction cup that is compatible with any smartphone, tablet, camera, and more. The front of the product has an adjustable mouth feature for inserting any sized treat or toy.
Picture Pawfect can also be used as a phone stand, toothbrush holder, and any other kind of creative suction cup requirement.
"No longer will pet owners need to wait for hours to catch their dog looking at just the right angle," said Alex Kang. "Spread the word on upcoming the launch of our Kickstarter campaign, and head on over June 13th to consider backing our production requirements for bringing Picture Pawfect to the market."