AA Historic Mixed Martial Arts Event – a Legend in Adaptive Sports
This is an amazing story about a 27 year old with Down syndrome who is pursuing his dream to be a Mixed Martial Artist and compete at the highest level. On June 23rd in St. Louis, MO. this Florida fighter will have his 3rd sanctioned MMA bout. Coached by his father this story has some amazing elements to it.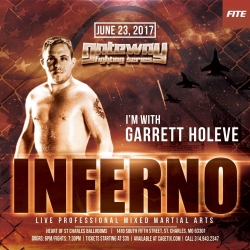 St. Louis, MO, June 20, 2017 --(
PR.com
)-- Garrett "G-Money" Holeve a pioneer in adaptive athletics and First Ever adaptive MMA Fighter will have his 3rd sanctioned Mix Martial Arts fight- On June 23rd, 2017 in St, Charles, MO.
G-Money is a 28 year old amateur MMA fighter who has inspired others with his hard work and dedication. Making fans out of UFC stars Stephan Bonnar, Mark Hunt, Urijah Faber. In preparation for this fight G-Money is training with UFC featherweight Ricardo Lamas. UFC Light Heavyweight Devin Clark – who is an advocate for individuals with Down syndrome - will be in G-Money's corner as one of his coaches for the fight.
A battle that will break down barriers and settle the score between two fighters, G-Money will face David Steffan a 30 year old MMA fighter with 2-2 record. These men will battle each other for the 1st Ever Adaptive MMA 135lb Championship.
Each of these athletes is special in their own way; Garrett has Down syndrome and David has cerebral palsy; they will show the world that people can achieve amazing things when given a chance.
The bout is being promoted by Gateway Fighting Series, Fight for Autism The bout will be held Friday June 23rd, 2017 at Heart of St. Charles Ballroom in St. Charles, Missouri.
Garrett's story has been documented by ESPN Sports Center as well as FUEL TV's UFC Ultimate Insider and various articles also. At the age of 19 Garrett began his journey into Martial Arts. Garrett's fight has always been to be included – not to be judged just because he happens to have Down syndrome. Martial Arts gave Garrett that chance –his hard work, determination and HEART has amazed his coaches and training partners. Garrett feels he has earned his chance to compete against am opponent of equal ability. Garrett has showed how much he feels that Martial Art s has helped him he has established Garrett's Fight Foundation the foundation provides Martial Arts and Physical Fitness programs for teens and young adults with special needs. Garrett gives his free time to train other adaptive athletes.
Garrett's work with others is what is really inspiring – giving back in the Martial Arts tradition.
Contact: Mitch Holeve
Phone: 954-270-9746
EPK:
http://www.joomag.com/magazine/garrett-g-money-holeve/M0798981001453427586
E Mail: garrettsfight@gmail.com
Web Site: www.garrettsfight.org
Face Book: Garrett's Fight
Twitter: @garrettsfight
Contact
Garrett's Fight Foundation
Mitch Holeve
954-270-9746
www.garrettsfight.org

Contact