Vacuum Cleaner Advisor Reveals the Best Pet Vacuums for 2017
Vacuum Cleaner Advisor has just released its list of the Best Pet Hair Vacuums for 2017. Machines from Dyson, Miele, Shark and several other manufacturers are featured.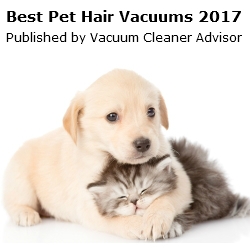 Seattle, WA, June 22, 2017 --(
PR.com
)-- Roughly two-thirds of US households share their homes with animals - there are over 170 million cats and dogs in the US alone. As lovable as these little fur balls are, they shed a lot of hair which can be a real challenge for their human owners. Enter the pet vacuum cleaner, a vacuum designed to pick up hair from carpet, bare floors, upholstery, etc. But the truth is that many of these machines are simply not up to the task. To help, Vacuum Cleaner Advisor has just published its latest list of the best pet hair vacuum cleaners. In this year's list the group has highlighted the best full size, stick and handheld pet vacuums.
Manufacturer's who made the cut in 2017 include Dyson, Shark, Miele, Bissell and Hoover. Selection criteria included level of suction, filtration capabilities, brushroll power source, number & quality of pet hair tools, cleaning reach, ease of debris disposal, length of warranty, and more.
Top honors this year go to the Dyson Ball Animal 2. This recent upright from Dyson is extraordinarily powerful and ticks most of the important boxes for a quality pet hair vacuum. The brushroll is motor driven and combined with the unit's colossal suction the Ball Animal 2 has the ability to effectively pull up cat hair and dog hair from carpet, bare floors, and pretty much any surface. The vacuum is also certified asthma & allergy friendly by the Asthma and Allergy Foundation of America. This is the result of HEPA level filtration as well as a sealed vacuum that ensures no leaking of unfiltered air.
The popular Shark Rotator NV752 TruePet comes in second place. This unit is less expensive than the Dyson and is very popular with owners, having garnered impressive consumer ratings. It includes two pet hair tools (Pet Mini Motorized Brush & Pet Upholstery Tool) and, like the Dyson, has both HEPA level filtration and a sealed system. Vacuum Cleaner Advisor tests have shown this unit to work well on pet hair removal from both carpet and hard surfaces. In addition, the NV752 adds cleaning versatility with its ability to operate as an upright vacuum, a canister vacuum, and to some extent even a handheld vacuum.
At number three is the Miele Complete C3 Cat & Dog canister vacuum cleaner. Miele makes a quality machine and their units are no stranger to Best Vacuums Lists. The Cat & Dog is manufactured in Germany and it is a sturdy machine with a superb fit and finish. Pet hair pickup with the motorized carpet cleaner head is first-rate and the vacuum also comes with charcoal layers in the filter which help to neutralize odors – a great feature for homes with pets or smokers. For those who don't like the auditory assault from the average vacuum, this European machine is also fairly quiet.
Visit vacuum-cleaner-advisor.com to see the complete
2017 Best Pet Hair Vacuum List
which includes reviews, videos, specifications, costs and buying tips. Vacuum Cleaner Advisor has been providing expert vacuum cleaner reviews and ratings for all the top brands since 2007.
Contact
Vacuum Cleaner Advisor
Nigel Russco
206-196-1762
vacuum-cleaner-advisor.com
For more information about Vacuum Cleaner Advisor please send us an email.

Contact