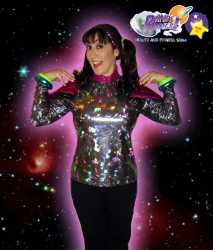 Long Island, NY, February 13, 2008 --(
PR.com
)-- Children from the Long Island area will be blasting off to The RandirobicsTM Kids Show for two performances being put on through the Town of Hempstead. Hundreds of children ages five through eight years of age will be exercising both their bodies and their minds through this new interactive kid's fitness entertainment program.
After years of building her fan base, children's fitness entertainer RandirobicsTM will be soaring into The Town of Hempstead on Long Island on April 24, 2008, with plans for a national tour at schools, parks, summer camps, resorts and festivals.
From Little Dippers ages 5-6 to Rocket Launchers ages 7-8, there is a specially designed fitness entertainment program just for kids that gets them excited about moving their bodies and staying fit. With childhood obesity and juvenile diabetes on the rise, RandirobicsTM is a program that provides a practical and fun solution to America's fitness dilemma: a children's fitness program and space age adventure in exercise.
According to Randi Chenkin, creator and host of The RandirobicsTM Fitness program, "What Barney did for education, RandirobicsTM does for exercise. I get the kids to exercise while entertaining them at the same time."
The attraction is an interactive space age fitness adventure featuring kids sing-along aerobics, games and original music performed by Randi, herself. The songs are written and recorded by Randi along with Lory lazarus who has written 24 gold records for the Barney television show.
The programs being offered on April 24th at Levittown Hall and on April 25th at the Merrick Park golf clubhouse from 11:00-11:45 AM, provide Long Islanders with a new, unique opportunity to share their fitness experience with the entire family. RandirobicsTM offers a fun opportunity for children to develop a lifelong love of fitness.
RandirobicsTM is a BOCES accredited program for the Board of Education and plans are now in the works for a live tour in the Nassau, Suffolk, Westchester and Putnam County school districts. Randi Chenkin has also created and will host her own program on public access television here on Long Island which will air in late spring. The program builds self-esteem and confidence, increases children's flexibility and stamina, helps develop discipline and develops social interactive skills, while having lots of "out of this world" fun.
For more information visit
www.Randirobics.com
To pre-register for this event please contact: 516-292-9000 ext.382 or visit:
http://www.townofhempstead.org/content/rc/children/shows.html#randi
###