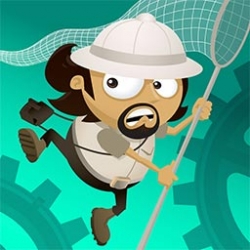 Montreuil-en-Caux, France, June 28, 2017 --(
PR.com
)-- Bob's a funny looking character, and you might call him the cartoon version of Indiana Jones. He's an explorer who's on a special mission, to help out his super smart dog Jarbrain. Bob gets trapped in a strange machine-like world, and the only way he can make it through is by collecting all the gems that trigger a portal to open.
As the player in ChronoBob, you need to manoeuvre Bob around these rotating gears (Bob has magnetic shoes). Make him jump in the right direction to collect all the gems and the gem-producing fireflies in the level, escaping a number of vicious enemies that are chasing you.
The arena has these particular features: there is no such thing as off-screen. When Bob leaves the screen at any place, he enters it the opposite side, which can be an advantage escaping enemies or choosing the fastest trajectory. Or it can make Bob lose all control when your aim is off.
Throughout the game, several upgrades become available (inventions by Jarbrain that get teleported into the levels), helping you survive the difficult conditions and complete the levels under the 2-minute time limit.
Features:
* 12 levels free to play. Buy the full game through in-app purchase to get 84 more levels of challenging fun.
* Enjoy the beautiful graphics and animations, and intuitive controls
* Test your timing skills and try to beat the chrono
* Jump from wheel to wheel to catch fireflies, while avoiding multiple vicious enemies
* Collect lots of gems to trigger a portal to open, that zaps you to the next level
* Complete increasingly challenging levels within a 2-minute time limit
* Platform: iPhone, iPad
* Language: English
ChronoBob is now available in the App Store as a Freemium game, and with an in-app purchase of 2,29 EUR to unlock the whole game.
Please visit http://www.chronobob.com for more ChronoBob information, including videos, screenshots and a press kit of the game.
To download the app: https://itunes.apple.com/be/app/chronobob/id1250889813?l=nl&mt=8