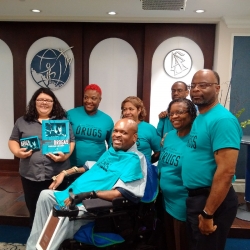 Atlanta, GA, June 29, 2017 --(
PR.com
)-- An open house was held at the Church of Scientology Atlanta on Monday June 26 in recognition of International Day Against Drug Abuse. The Church of Scientology in coordination with the Georgia Foundation for a Drug Free World, hosted renowned motivational speaker James Brown as the honored guest speaker for the evening. A few weeks earlier, Mr. Brown learned about the Drug Free World program from a member of his local church. The group sounded like a promising anti-drug partner, so he decided to look it up on the internet to learn more about the organization. Having been extremely impressed with the message and the tools of the organization, he promptly called the local Church of Scientology and spoke to alocal Fdn for Drug Free World representative. At that time he offered to come and speak and was scheduled immediately for the open house later in June. The following is his story:
On August 15, 1992, James Brown was robbed at gunpoint, shot in neck and left paralyzed from the neck down and likely fated to live the rest of his life confined to a wheelchair. Rather than lying in bed feeling sorry himself, he inevitably decided to accept God's grace to have life and have it more abundantly by making a difference, not only in his life but in the lives of others, namely youth.
After his paralysis, his sensibilities naturally increased, including the ability to reflect on past decisions, life's circumstances, and the inevitable consequences that they create. Faced with an abundance of time to think and observe the world around him, he began to clearly see the course of events that shaped his life and how extreme circumstances, misjudgements and poor decisions led him to that fateful day. Getting involved in drug pushing, theft, no education, and other such decisions led James on a path of destruction.
James Brown is now a motivational speaker with a powerful and life-changing message. As a former star high school athlete from a troubled family and a naval officer father turned drug dealer, James understands the lure of the streets. He shares his life story as a way for him to heal past wounds and help others effectively overcome their current challenges.
On September 11, 2001, he founded the James Brown Youth Empowerment Organization Inc., a 501(c)(3) nonprofit organization that is dedicated to mentoring and inspiring youth. The mission of the JBYEO is to effectively educate, encourage, and empower children and young adults against engaging in risky behaviors, including but not limited to substance abuse and gang membership.
Mr. Brown has now partnered with the Georgia Foundation for a Drug Free World, an international non-profit organization whose mission it is to educate the world on the true destructive nature of illicit drugs and eradicate their use entirely. http://www.drugfreeworld.org