Dr. Marium Murad Honored as a Top Doctor by Strathmore's Who's Who Worldwide Publication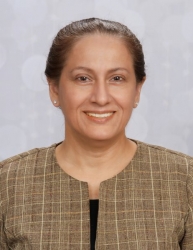 Houston, TX, July 01, 2017 --(
PR.com
)-- Dr. Marium Murad of Houston, Texas has been honored as a Top 100 Doctor by Strathmore's Who's Who Worldwide Edition for her outstanding contributions and achievements for over 25 years in the fields of wellness and alternative healing practices.
About Dr. Marium Murad
Dr. Murad is the Owner of Movement is Blessed, a wellness program providing wellness through movement therapy. She created the MB-"Movement is Blessed" Program, which is an all-natural therapy of simple, natural exercises for all based on the timeless basic principles of science for individuals who are unable to exercise at the gym, swim, walk or jog, or are ill. It uses the body's own natural motion for health and harmony. Her program is world-renowned for healing. It incorporates full-body circulation and begins with movement in the toes. The program is based on scientific principles of heart and circulation. Although the body may become physically slow, the internal body cannot slow down because the heart still beats and the internal organs must function to sustain life. Dr. Murad aims to destress the heart, detox the organs and improve circulation by using a series of specific small body movements. It is applicable for people of all ages, all fitness levels and all health conditions. Her program has shown incredible success and gained recognition both nationally and internationally. It has been translated into Braille, Spanish, Vietnamese, and is being translated into other languages.
Dr. Murad has been presented with numerous awards for her outstanding leadership and commitment to her profession. She was recognized as VIP Woman of the Year by the National Association of Professional Women in 2014. She was named Top Female Executive in 2015, first "Delegate" representative in 2016 and Top Healthcare Leader for 2016-2017 by the International Women's Leadership Association. Dr. Murad has twice been recognized on the Reuters Billboard in Times Square in New York City. She has been honored as a Professional of the Year for 2016-2017 by the International Association of Top Professionals. She was selected as the "Empowered Entrepreneurial Woman" out of 6 finalists for a 2 series radio show by CUTV, News Radio, New York which occurred on June 5 and June 12, 2017. She has written many articles, and was featured on the cover of several magazines including IWLA and NAPW. She has also appeared on television shows and radio shows, all with positive reviews, and has traveled globally to attend conferences and seminars to speak about her program. She is a return speaker for the Hearing Loss Association of America, and participated in their HLAA Walk in 2016 in Houston, Texas. An exhibitor at the American Council for the Blind annual and state conventions 2016, she was a speaker and taught a workshop at the Light House in Houston, Texas in 2016, and attended the annual Diabetes and Disabilities Expo in November 2016, "Dancing for Diabetes" to raise awareness for diabetes. In September 2016, Dr. Murad was an exhibitor at the annual Grandparents Raising Grandchildren Convention and taught a workshop especially for these grandparents in Corpus Christi, Texas. She will be an exhibitor at the Autistic and Other Developmental Disabilities annual convention 2017, and Home Schooling by Mothers annual convention 2017 in Houston.
Marium graduated with an M.D. from Fatima Jinnah Medical College in Lahore, Pakistan. In her spare time she enjoys reading, food, friends and travel.
Dr. Murad's quote, "Life is movement, movement is life" is the foundation of her program.
For further information, contact
www.movementisblessed.com
.
About Strathmore's Who's Who Worldwide
Strathmore's Who's Who Worldwide is an international advertising, networking and publishing company based in Farmingdale, New York. They are proud to be able to satisfy their clients and continue to have repeat clientele due to their longevity and pride in their products and services. The Owners strive to connect business professionals to enhance their contact base and networking capabilities so they can get the acknowledgment and publicity within their industries and beyond. The Strathmore family has been providing these valuable services for over two decades. They target executives and professionals in all industries to be featured in their publication and on-line directory. Industries include business, law, education, healthcare and medicine, fine arts, IT, government, science, real estate, entertainment and many more accomplished fields. Professional profiles are listed in an annual hardcover journal and in a detailed, searchable database on the website www.strww.com.
Contact
Strathmore Worldwide
Susan Perrault
516-677-9696
www.strathmoreworldwide.com
Syndi Reibman

Contact