DNX Co to Launch Carah, the Smart Safety Watch for Women, on Kickstarter
A new hybrid smart safety watch, Carah, will launch on August 1st on Kickstarter. It boasts an SOS function that immediately notifies pre-selected guardians of the wearers location and sounds an alarm if the wearer holds down the watch face for longer than 2 seconds. Carah aims to provide back up for women who want to live their lives more freely and securely without sacrificing their style or comfort.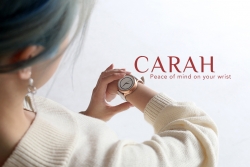 Seoul, Korea, South, July 06, 2017 --(
PR.com
)-- Developed by a working mother whose children were studying abroad, Carah aims to provide comfort for those who may be newly on their own or would just like some back up. Launching on August 1st, Carah is set to shake up the way that the public views safety wearables.
"When my daughters went to study abroad in the US, I was so nervous because I couldn't be there for them," said DNX Co CEO Professor Grace Kwon, "With Carah, I finally feel like I can have peace of mind because even though I'm miles away, my product can still keep them safe."
Carah marries what an independent woman needs as well as a few crucial wants. The most important functions that make it a staple to an increasingly hectic lifestyle include:
SOS — Simply push the whole watch face for 2 seconds to: activate the siren, auto call your pre-chosen emergency contacts, and send those contacts your GPS location.*
I'm here — Double click the 3 o'clock position on the watch face to instantly send your GPS location to your pre-chosen "I'm here" contacts.*
Fitness —Set your fitness goals, count your steps and even count your calories burned via the Carah app. View your daily, weekly, and monthly data and progress all in the Carah app as well.
Find your phone — Double click at 6 o'clock to ring your phone. Press anywhere on the watch face to stop the tune.
Remote selfies — Select the camera in the app to activate. Once you've positioned your phone in the desired location, press anywhere on the watch face to take the picture.
Notifications — When you receive a call, a red LED at the 12 o'clock position of the face lights up and Cara will vibrate. When you receive a text, a red LED at the 9 o'clock position of the face lights up and Cara vibrates.
*Carah pairs to your existing Android or iOS smartphone. Some functions differ in iOS due to Apple's restrictions.
About DNX Co Ltd
DNX Co Ltd makes the Things in the Internet of Things. It designs and manufactures smart wearable and IoT devices in own brand, OEM or ODM flavors. From smart watches to asset trackers to IoT controllers to smart jewelry to safety device. DNX prides itself on making high-quality, life enriching devices at affordable prices. More information can be found at www.dnx.kr/carah or their Facebook page at facebook.com/carahdnxco
Press Kit: dnx.kr/press
Source: DNX Co
Contact
DNX Co
Janileyah Thompson
010-9862-1943
dnx.kr

Contact