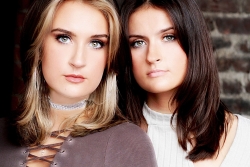 Nashville, TN, July 07, 2017 --(
PR.com
)-- Country Music's hot, new, sister duo, Presley & Taylor, have joined the dynamic roster of Buddy Lee Attractions-Nashville, earlier this week July 5, 2017. This exciting partnership came on the heels of the completion of the pair's highly-anticipated album, which is expected this coming year. Joining Buddy Lee Attractions has paved the way for country music fans across the country to experience the live energy and neo-traditional sound that has made Presley & Taylor the highlight of fairs and festivals in the northeast.
Presley & Taylor have made regular appearances on 650 AM, WSM, the radio home of the Grand Ole Opry and have performed throughout Nashville including a performance with country icon Pam Tillis on the Grand Ole Opry stage in April of 2017. The duo has had two consecutive top thirty (30) hits on the national Music Row Country Music Breakout Chart and their latest single "This Phone" debuted on the Billboard Country Indicator Chart in June of 2017.
Buddy Lee Attractions, Inc. is Nashville's oldest and largest privately owned talent agency, serving the needs of country music's live entertainment industry worldwide. Originally founded in 1964 as Aud-Lee Attractions, the agency was fully acquired by Buddy Lee in 1964. Throughout the past 50 years, the agency has developed and represented the biggest names in country music. Including, George Strait, Willie Nelson, Garth Brooks, the Dixie Chicks, Florida Georgia Line and Jason Aldean.
"We feel that Buddy Lee Attractions is a perfect fit as they have represented so many great country artists that have really influenced our musical direction and we are so grateful to become a part of such a great musical family." –Presley & Taylor
For more on Presley & Taylor, please visit:
www.presleyandtaylor.com
About Presley & Taylor
Raised in a small farm town in Connecticut, sisters Presley & Taylor spent most of their time alongside their family of talented musicians. Listening to country music greats and world-class trendsetters such as, Tammy Wynette, Tanya Tucker, Randy Travis and Alan Jackson, the girls grew a deep appreciation for Country Music.
Described as "the real deal" and "absolutely brilliant" by radio execs, the "neo-traditional" Presley & Taylor embrace the sound of stone cold country music traditions with absolute vocals and impeccable harmonies.
Presley & Taylor have shared the stage with award-winning entertainers and hit-makers such as Martina McBride, Ashton Shepard, Bucky Covington, Janie Fricke, Sarah Darling, Jamie O'Neal, The Willis Clan, Buddy Jewell and Restless Heart. They have become regular performers at Tootsies Orchid Lounge, The Nashville Palace, the Hard Rock Café, Margaritaville and Ernest Tubb Record Shop in Music City- Nashville, TN. They have also made a number of in-studio, special-guest appearances on WSM-650AM, the radio home of the Grand Ole Opry.
The duo looks forward to releasing their highly anticipated up-coming album, which features Country Music Icon, Pam Tillis on the song "Heart Over Mind." In April of 2017 the duo performed "Heart Over Mind" with Pam Tillis on the stage of the Grand Ole Opry. On July 5, 2017 Presley & Taylor joined the roster of Nashville's oldest and largest privately owned talent agency Buddy Lee Attractions.