Medeiros Fashion PR, the Very First Public Relations Firm in the US to Specialize in the Plus Size Fashion Industry, is Making Sure Curves Are Heard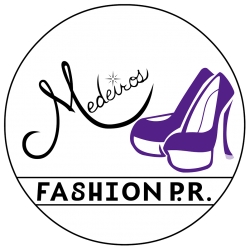 New York, NY, July 11, 2017 --(
PR.com
)-- The plus size fashion industry is exploding and it's the best news in the world for the majority of the women in the country, who have been dying for sexy, beautiful clothes, not the grandma-esq muumuus that have been their only option until now.
Although plus size designers, magazines, models, photographers, etc, are popping up all over the world, many of them remain unknown because, until now, there has not been a public relations firm in the US that caters to them. Thankfully, president and founder Emma Medeiros has remedied that by creating Medeiros Fashion PR, the very first public relations firm in the US to specialize in the plus size fashion industry.
As she said in her interview with Marie Claire UK magazine, Emma explains, "I was absolutely astounded when I realized that, although there are tons of fashion PR firms in the US, not one of them specifically catered to the mammoth plus size fashion industry. We simply can't have that! Now that the world is finally realizing the power of the plus size purse, I am determined to give plus size designers, models, photographers, etc, the voice that they deserve."
However, Emma has one major requirement for clients looking to become part of the ever-growing Medeiros Fashion PR roster; "They must be bringing something truly unique and different to the industry!" she states vehemently. "One of my professors in college told us a story about when he was job hunting many years ago. He went into an interview prepared to answer the typical questions, such as what his strengths and weaknesses were. Instead, though, the interviewer started with this question: 'What makes you so f*cking special?!' He didn't censor, by the way; I'm being nice. Needless to say, my professor was completely caught off guard and was sputtering while trying to come up with an answer. The interviewer then thanked him for coming in and told him to leave. Talk about brutal! The moral of the story, though, is that, in any industry and however you phrase it, that's what customers want to know. For example, why should they buy from your plus size clothing brand instead of the thousands of others out there?"
Medeiros Fashion PR offers a wide variety of services, such as press outreach, social media assistance, partnership development with other brands, and connection with other plus professionals, such as if designers need help finding models to walk in their show. Plus size designers, models, retailers, bloggers, magazines, photographers, etc, who are looking to grow their brands and, of course, know what makes them so f*cking special, can contact Emma at emma@medeirosfashionpr.com to arrange a free consultation to discuss a personalized package that will best help them to reach their specific goals.
About Medeiros Fashion PR:
Originally from Providence, RI, Emma received her degree in Integrated Marketing Communications from Emerson College, located in Boston, MA, in May of 2012. Married that same summer, she started a blog called Curves, Cats, and Creams, which focused on bridging the gap between straight size and plus size fashion. To her, fashion is simply fashion. "Why should plus size fashion be an afterthought when the majority of women in this country fall into that category?" she demands to know. "We want to be sexy, feminine, and fashionable, and I think designers, retailers, etc, are finally waking up to that fact!"
Launched in 2015, Medeiros Fashion PR subscribes wholeheartedly to Coco Chanel's belief that "In order to be irreplaceable, one must always be different" by only taking on clients who offer something truly unique, such as Carmina Suzanne, an internationally published agency plus supermodel who is also a Harvard graduate, professional opera singer, and now multiple sclerosis advocate.
Other clients include Curvy Chic Closet, the largest plus size consignment event in North America, Club Bodice, the nation's only body positive Goth/alternative club night, Babydoll Beauty Couture, the country's first plus size beauty salon, Pynkie Brown Designs, which brings 70s couture fashion to the plus size woman, plus size couture swimwear line Bjuled Couture, and couture plus size brand Eyani Couture.
Emma sums up, "My goal with Medeiros Fashion PR is to put plus size fashion on an equal footing with straight size fashion. There's absolutely no reason for them to be separate, and, once I accomplish that, I can die a happy woman!"
Learn more about Medeiros Fashion PR at the following links:
Web:
http://www.medeirosfashionpr.com/
Facebook: https://www.facebook.com/MedeirosFashionPR/
Twitter: https://twitter.com/MedeirosFashPR
Instagram: https://www.instagram.com/medeirosfashionpr/
Contact:
Emma Medeiros
emma@medeirosfashionpr.com
Contact
Medeiros Fashion PR
Emma Medeiros
401-215-8889
www.medeirosfashionpr.com/

Contact