nüCamp RV Hosts Rally for Teardrop Camping Enthusiasts Near Growing RV Factory in Sugarcreek, Ohio
More than One Hundred T@B Teardrop Camper and T@G Teardrop Trailer Owners and Enthusiasts to Descend on Sugarcreek, Ohio July 24-29 for Weeklong Camping Rally Near Rapidly Growing RV Factory in Ohio's Amish Country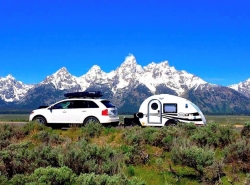 Sugarcreek, OH, July 11, 2017 --(
PR.com
)-- One of the fastest growing recreational vehicle manufacturers in America will be hosting its inaugural üCamp17 rally July 24-29 at Winklepleck Grove Campground just outside of Sugarcreek, Ohio. The campground is located about a mile from the nüCamp RV factory in Tuscarawas County, offering attendees ready access to factory tours, service appointments, and opportunities to meet with the company's research & development team to discuss future product ideas.
nüCamp RV manufactures the T@B Teardrop Camper, T@G Teardrop Trailer, and Cirrus Truck Camper. Prior to April of 2017 the company manufactured the Little Guy Teardrop Camper Trailer and distributed its products through Little Guy Worldwide of Green, Ohio. The companies parted ways upon the expiration of their distribution agreement, and nüCamp RV now distributes its products directly to 125 dealers in North America.
According to nüCamp RV CEO Scott Hubble, "The üCamp17 event offers our company the opportunity to connect directly with our very enthusiastic customers who love their teardrop campers and want to share their experiences with each other and with those of us here at the factory in Sugarcreek."
In addition to offering attendees the opportunity to tour local sights, nüCamp RV will be offering service and modifications, "mods," as they are known by enthusiasts—throughout the week. Attendees will also be treated to an Amish dinner, a wine and cheese reception, and an outdoor showing of the movie Grease. Attendees are expected from as far away as Washington State and Maine.
RVing is becoming increasingly popular, and lightweight towable trailers, in particular, are growing in popularity. According to the Recreational Vehicle Industry Association (RVIA), shipments of travel trailers are up 22.9% for May of 2017 over the prior year, and total RV shipments are up 12.2% year-to-date over 2016.
nüCamp RV is benefiting from the growth in the market. The company completed a physical expansion earlier this year, adding 91,000 square feet to its manufacturing facility. "We see incredible opportunity for growing our business, to the point where several of our suppliers are making plans to open satellite manufacturing facilities near our plant in Sugarcreek," said Hubble. "Having access to a world-class labor force of highly skilled craftsmen and women offers us an advantage that is simply not available to other RV manufacturers."
Registration for the üCamp17 event is $149 per campsite and is open through July 21. Anyone interested in attending may register online at https://www.eventbrite.com/e/ucamp17-the-annual-gathering-of-tb-tg-and-teardrop-enthusiasts-registration-33116827322
Contact:
Scott Hubble
Chief Executive Officer, nüCamp RV
661 Belden Pkwy NE, Sugarcreek, Ohio 44681
330-852-4811
marketing@nucamprv.com
https://nucamprv.com
Contact
nüCamp RV
Scott Hubble
330-852-4811
https://nucamprv.com

Contact