Momma Lynn Management (MLM) Announces Seattle Based Rock and Roll Band, One Gun Shy, Has Joined the Momma Lynn Family of Companies
Momma Lynn Management announces the Seattle based Rock and Roll band, One Gun Shy, has joined the Momma Lynn family of companies and will release their third album, "Zombie" through a partnership with Pacific Northwest Independent Record Labels, Momma Lynn Records and Lime & Dime Records.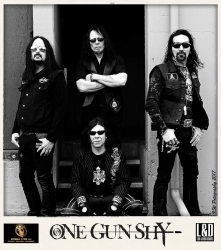 Seattle, WA, July 14, 2017 --(
PR.com
)-- Momma Lynn Management announces the Seattle based Rock and Roll band, One Gun Shy, has joined the Momma Lynn family of companies: Momma Lynn Records (MLR), Momma Lynn Publishing (MLP) and Momma Lynn Management (MLM). "We welcome One Gun Shy into our 'Unique Family of Artists', said Momma Lynn Founder and CEO, Michael Decker. "These guys have done a great job of establishing themselves in the local Music Scene, and have put in the work. Now, we want to take it a step further by helping them expand their brand awareness regionally and nationally."
Momma Lynn Records, an Independent Record label operating in the Pacific Northwest region of the country, has partnered with the band's label, Lime & Dime Records, and Studio Sage of Edmonds, Washington to help the band complete their next album 'Zombie'. "This is just another example of Pacific Northwest Music Professionals coming together to get the music out there," said Decker.
One Gun Shy is: Chris "Wombat" Womble - Drums/Percussion, David "Spider L8N" Leighton - Bass Guitar/Backing Vocals, Michael David Garcia - Lead Guitars/Backing Vocals/Keyboards, and Neriah "Stone" Hart - Lead Vocalist/Rhythm Guitars. All the members share songwriting responsibilities and write for the band.
"It all began back in 2011. We were determined to do something different," said drummer, Chris Womble. "We work very hard in everything we do. We take our music seriously, but remember to never take ourselves too seriously and have fun. We all come from varied and unique backgrounds, but we share a common goal and vision for our music… It Has to Rock!"
Chris "Wombat" Womble was first introduced to drumming at the age of seven by his uncle, Lance Fuqua, who was a studio session drummer in Phoenix, Arizona. Later he played in his school's concert and jazz bands and lists his musical influences as: John Bonham, Terry Bozzio, Carmine Appice, Tommy Lee, Shannon Larkin, Neil Peart, Joe Franco, Gene Krupa and Buddy Rich. Since then, he became obsessed with drumming and found his way into several top bands and has shared the stage with Aldo Nova, Eddie Money, Quiet Riot, Night Ranger, Great White, Dokken, Missing Persons, Foghat, Steppenwolf, Love Hate, Smile Empty Soul, Madlife, The Dreaming, Loudness, Y & T, and Joe Perry Project.
Bassist, Dave "Spider L8N" Leighton began his musical journey at the age of two in Los Angeles, California when his mother gave him two spoons to bang on an empty oatmeal container along with the Rolling Stones playing on the radio. "I started taking piano lessons when I was five years old and living in Tokyo, Japan," said Leighton. "When we returned home three years later, I started violin and drum lessons, and at the age of ten I began playing guitar." Leighton was influenced early on by the music of Rush, Pink Floyd, Led Zeppelin, Stanley Clarke, Black Sabbath, King Diamond, Metallica, The Who, Three days Grace, Iron Maiden, Seether, and AC/DC. After 20 years playing guitar, Leighton emerged as a bassist and now provides the high energy presence combined with solid melodic grooves and harmonic overtones which complement One Gun Shy's uniquely heavy, yet melodic sound.
Michael David Garcia is originally from San Diego, California, and now resides in Seattle, Washington. "I was raised playing Funk and Blues and have played in many genres of bands including Rock, Death Metal, and Country." When asked about guitar players that have influenced him over the years, he said, "Vivian Campbell, Slash, Jake E. Lee and Zakk Wylde are some of my influences. I'm always studying different styles of music." Garcia is the driving force of the guitars behind One Gun Shy's music.
Lead Singer and Rhythm Guitarist, Neriah "Stone" Hart is originally from Santa Cruz, California. He is a progressive, modern Hard Rock vocalist with a melodic edgy style. When asked what inspires his songwriting, Hart said, "I want to make music that shakes the soul and makes you think about what's going on in the world around us." Hart studied music and vocals at Cabrillo College in Santa Cruz. He is a natural-born performer who has rocked large and small venues and opened for acts like Quiet Riot, Loverboy, Earshot, The UK Subs, The Wailers, The Fabulous Thunderbirds, and Tsunami. He received his first publishing deal in 2003 while signed to Jetspeed Records which led to airtime on national television's Spike TV. "I want to help give One Gun Shy a unique identity by pushing the borders of Rock, Blues and Alternative Essence into our music."
'Zombie' will be the band's third album following their debut 'After the Rain' and second album 'Solace'.
Check out One Gun Shy at: http://www.onegunshy.com/ and on their Social Media profiles for news updates and upcoming events.
Contact One Gun Shy: artistcontact@mommalynnmanagement.com
The Momma Lynn family of companies, Momma Lynn Records, Momma Lynn Publishing, and Momma Lynn Management, are a group of music related companies headquartered in the Great Pacific Northwest with offices in Seattle and on the Kitsap Peninsula.
Momma Lynn LLC
SAFECO Plaza
1001 4th Avenue, Suite 3200
Seattle, WA 98154-1003
(866) 699-2515
www.mommalynn.com
Contact
Momma Lynn LLC
Michael L. Decker
(866) 699-2515
www.mommalynn.com
mldecker@mommalynn.com

Contact