SaintyCo Updates All Tablet Press Machines; Now Introduces 9 New Series of Machines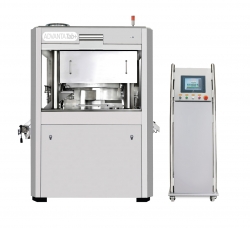 Ruian, China, July 18, 2017 --(
PR.com
)-- SaintyCo, a leading
manufacturer of pharmaceutical equipment
, announces 9 new series of
tablet press machines
. These are cGMP compliant tablet making machines with modular design for easy part changeover, a robust PLC system, a range of tooling options and auto-lubrication that guarantee overall equipment efficiency (OEE), while reducing total cost of ownership (TCO).
"Our new tablet compression machines guarantee stable and consistent operation, featuring low decibel, high weight accuracy and the ability to press tablets of different sizes," said Mr. Tony Zeng, SaintyCo General Manager. "Every machine is fitted with an automatic control system that monitors every process from feeding material, die condition to ejecting compressed tablets in the discharge chute, thereby reducing possible losses in the production cycle."
SaintyCo's new tablet press machines include AdvantaTab, AdvantaTab Plus, MagnaTab, MiniPress, Mpress, OneTab, PrimaTab, Smart Plus and Smart S. They feature punch and dye type "D," "B," "BB" or "BBS," depending on the machine series.
This new generation of tablet press machines features an improved structure, better control of every operation and quick setup, reducing possible downtime. With different feeding systems, remote control/process monitoring for some options, varying press stations and tablet sizes, SaintyCo tablet presses meet the dynamic demands in R&D, clinical trials and large scale production in pharmaceutical industries.
The new series of SaintyCo tablet press machines come in different design structures, including both standard and custom options. Other additional features such as independent lubrication systems for some designs, precise pressure control and use of FDA approved material minimize risk and optimize production.
SaintyCo's new tablet presses come with improved safety measures. These include overload protection, interlocking system, advanced dust handling capability and patented closed punch bellows to eliminate tablet contamination.
A reasonable tablet processing technique that increases the service lifespan of punch turret and dies is yet another distinct feature of the updated SaintyCo tablet press machines.
As part of SaintyCo's strategic plan 2017, the company will introduce more tablet machines varieties that aim to eliminate counterfeiting of tablets.
About SaintyCo
SaintyCo researches, designs and manufactures foodstuff and cosmetic machines. For over 15 years, SaintyCo has expanded to over eight factories that deal in capsule filling, blister packing and film coating machines, amongst others. All machines and equipment are CE and cGMP compliant.
The latest in its product line is the new generation of SaintyCo tablet press machines.
Media Contact:
Contact Person: Tony Zeng (General Manager)
Email: info@saintyco.com
Tel: +86-577-66612826
Website: http://www.saintytec.com
Contact
SaintyCo International Group
Tony Zeng
86-577-66612826
www.saintyco.com

Contact