CSCMP Jacksonville Roundtable 2017-2018 Board of Directors Announced
CSCMP is pleased to announce the official 2017-2018 Board of Directors for the Jacksonville Roundtable.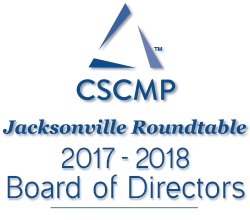 Jacksonville, FL, July 18, 2017 --(
PR.com
)-- 2017-2018 Board of Directors for the Jacksonville Roundtable:
Ike Sherlock, President:
Ike Sherlock is succeeding the role of President from Rose Mueller. As President, Sherlock will be acting as Chief Operating Officer of the Roundtable. Sherlock has over 15 years of experience in transportation and logistics and received a BBS from Troy University. Sherlock has been a catalyst in the growth of The Grimes Companies and is deeply involved in the Jacksonville community. Sherlock is the Executive Vice President of The Grimes Companies.
Jamie Babeaux, VP of Membership:
Jamie Babeaux is succeeding Ike Sherlock in her new role as VP of Membership. Having previously served as the Young Professional Chair, she helped enhance the culture and community of the future logistics professionals. Babeaux studied at Indiana University-Northwest and has almost 10 years logistics experience. Babeaux is the IT Director at US1 Network.
Debbie McDowell, VP of Programs: Debbie McDowell is succeeding Amy Rhoden in the role of VP of programs and will be responsible for establishing a diverse programs committee among planning of Roundtable activities. McDowell has served as a panelist for several forums and has been a key partner in organizing the UNF Transportation & Logistics Executive Spotlight and facility tours. She is also an advocate for education as well as an inspiration to students. McDowell is the Director of Customer Service and Business Development at Seaonus.
Allen Skinner, Secretary:
Allen Skinner is succeeding Russ Dixon as Secretary and will serve as the clearinghouse of all communication and technology tools for Roundtable services. Skinner is skilled in efficient management throughout the supply chain and has extensive knowledge in client needs and development of client relationships. Skinner is a Logistics Intern at The Grimes Companies.
Muhib Beekun, Treasurer:
Muhib Beekun is succeeding the role of Treasurer from Katherine Torres. In addition to having received two Bachelor's degrees, one in Business Admin and the second in Logistics, Materials and Supply Chain Management, Beekun is also US Navy veteran and brings significant leadership skills and knowledge to his position as Treasurer. Beekun is a Portfolio Analyst at GE Capital.
Savitri Marajh, Young Professional Chair:
Savitri Marajh is succeeding Jamie Babeaux in the role of Young Professional Chair and will be responsible for leading and educating young logistics professionals. Marajh is currently a Junior at UNF majoring in Transportation & Logistics and also serves as the Treasurer of the Transportation & Logistics Society on campus. Marajh is a Design Intern for CEVA.
Lynn Brown, Educational Chair:
Lynn Brown brings extensive knowledge to the position of Educational Chair. Brown is the Associate Director of Transportation & Logistics Flagship Program in the Coggin College of Business at UNF and she has a BBA in Logistics & Finance.
The CSCMP Jacksonville Roundtable exists to connect, develop, and educate logistics and supply chain management professional throughout their careers.
If you are interested in becoming involved with the local
CSCMP Jax Florida Roundtable
, you may contact any of our Board members at any time for more information.
Contact
The Grimes Companies
Michelle Williams
904-446-4800
www.grimescompanies.com

Contact