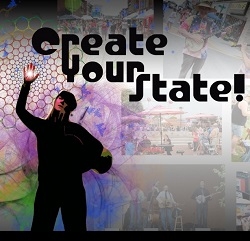 Princeton, WV, July 24, 2017 --(
PR.com
)-- Applications are now open for the 2nd round of the Create Your State Tour in West Virginia. Ten towns will be selected in 2017-2018 to receive the program, which inspires and empowers arts-centric community development.
For communities outside of West Virginia that are interested in this program, please contact the Program Director, Lori McKinney (
createyourstatetour@gmail.com).
The downtown area of Princeton, West Virginia is in the midst of a dynamic creative renaissance on its way to becoming a vital regional tourist destination known for its blossoming arts district. Early pioneers and catalysts of this revitalization Lori McKinney and Robert Blankenship began working toward this vision nearly a decade ago when they established the RiffRaff Arts Collective in the heart of downtown, which was once a dismal and mostly abandoned block. Featuring an art gallery, artist studios, performance venues, a recording studio, a music school, and more, this vibrant collective has brought color and life to a turn-of-the-century structure and its surrounding neighborhood. Over the years, partnerships with local government and universities, local non-profit Community Connections, the Princeton-Mercer County Chamber of Commerce, volunteers and more, have amplified their work and sparked a sweeping movement to renovate Mercer Street, the town's main thoroughfare, now home to many new business and community-building celebratory events such as an annual arts parade and various holiday-themed street parties including the "Downtown Countdown," a New Year's Eve ball drop a la NYC's Times Square. Downtown Princeton once again has a thriving pulse!
Since 2012, McKinney and Blankenship, along with their music ensemble Option 22, have been traveling around the region to leadership conferences, entrepreneurship summits, and places of education to present a multimedia production called "Create Your State" (CYS) that inspires citizens with their story of arts-based community revitalization and empowers other civic leaders, entrepreneurs, and creatives with tools to transform their environment and boost their local economy. Teamed with Community Connections, The Create Your State Tour was awarded a major grant in 2016 by the Claude Worthington Benedum Foundation to take the show on the road around West Virginia. Ten towns received the program and are now making great strides towards public art projects, establishment of arts festivals, arts-co-ops and more. Ten additional WV towns will be selected to participate in the 2017-2018 tour based on their interest, drive, and need for this type of development.
The CYS program features live music, visuals, and a compelling exchange about the arts-centric revitalization of Princeton, providing inspiration and insight for the replication of this work. The music of Option 22 is full of hope and uplifting messages. The visuals - both video and still shots - are colorful and impactful, reflecting on building renovation, arts events, public works of art, parades, community garden creation, public space beautification, and more. The program is a stage show complete with professional sound and lighting, which creates an exciting, engaging setting for experiential learning. The web portal createyourstate.org is full of information, step-by-step instructions, webinars, and more, so that communities will have ongoing access to the information and a direct line of communication with the CYS founders. The generous funding provided by Benedum will allow McKinney and Blankenship to further elaborate their existing CYS curriculum, provide richer learning materials to participants, and offer ongoing support and mentorship as development plans get executed in communities throughout the state.
The mission of The Claude Worthington Benedum Foundation is to encourage human development in West Virginia and Southwestern Pennsylvania through strategically invested resources. The foundation honors Michael and Sarah Benedum's belief in "helping people help themselves" by creating "opportunities to cultivate the creativity of people and communities."
CYS project manager and presenter Lori McKinney says, "This is a project ten years in the making. We have worked so hard for so long and we are incredibly thankful to have this opportunity to contribute to communities around the state, sharing what we've learned and inspiring people to transform their environment. The tour last year was impactful, and we have loved providing ongoing coaching to the wonderful teams that are working all around West Virginia. We are extremely grateful to Greg Puckett and Community Connections for all the support they have given us over the years to develop our work, and this opportunity is something we've been waiting for - to share what we have learned and give back at a bigger level. Many, many thanks to Community Connections and the Benedum Foundation for enabling this project!"
Greg Puckett, Executive Director of Community Connections says that, "We are exceptionally pleased at this amazing opportunity. Statistics show that when you change the physical design of a community, followed by an infusion of cultural diversity, it provides a vision of hope, innovation, and dedication from the community at large. This hope builds new partnerships and truly changes perception of negative, to overwhelmingly positive."
Interested individuals and groups can access the application to host the CYS tour at createyourstate.org. For more information about the CYS tour, stay tuned to that website, send an e-mail to createyourstatetour@gmail.com, or call 304-320-8833.