New Stereo 3-Way Active Crossover from Sublime Acoustic
Sublime Acoustic K231 3-way active crossover is now shipping.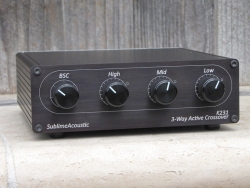 Livermore, CA, July 27, 2017 --(
PR.com
)-- With the K231 Stereo 3-Way Active Crossover, consumers now have access to a superior level of audio quality, which in the past was virtually unattainable by everyday audio consumers. Previously, only professional-grade audio equipment, costing from thousands to even tens of thousands of dollars or more, was capable of delivering high quality, crystal clear sound. Today, however, audio enthusiasts can experience the same remarkably detailed, high-definition sound with the K231, an electronic active crossover introduced by the new sound and audio technology company, Sublime Acoustic.
As an active crossover, the K231 serves to improve sound quality by separating the high, mid, and low frequency sounds using precise op amp based filter circuitry, and allowing the use of a separate power amplifier to directly control each speaker driver for each of these ranges. This topology, known as active bi-amping or tri-amping, results in vastly improved clarity and reduced distortion of the sound that is produced.
The K231 is a fully analog design, engineered from the ground up using only the highest quality audiophile grade components in order to produce the cleanest, most accurate sound imaginable.
With Sublime Acoustic's K231, consumers can distinguish the location of each instrument on the soundstage. They can hear the guitarist's fingers hitting the frets, and the singer's breaths between each line – that's the level of clarity possible.
The K231 is now shipping from their rep and manufacturer, Xkitz Electronics, and is already receiving positive customer reviews. Their very first customer commented: "My friends came over last week, for wine / dinner / more wine. We were sitting in my living room, talking and listening. I looked over at Lisa, and there were tears running down her face. Alarmed, I said 'Oh my god, what's wrong?' She smiled and said 'I love this song. I've heard it a thousand times, but I've never really heard it until right now.'"
Contact
Sublime Acoustic
Mark Longley
(925)344-5186
www.xkitz.com

Contact