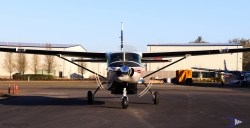 Aurora, OR, July 27, 2017 --(
PR.com
)-- Metal Innovations Inc. is proud to announce that they have received Federal Aviation Administration (FAA) Supplemental Type Certificate (STC) #ST02549SE for its Cessna 208 and 208B Caravan Reset Program.
Cessna maintenance inspection requirements significantly increase at 20,000 hours of total time, and repeat every 5,000 thereafter. These intensive inspections take hundreds of man hours to complete and can cost an operator hundreds of thousands of dollars in maintenance costs and lost revenue due to aircraft downtime. After several years of development, Metal Innovations is pleased to offer FAA Approved STC #ST02549SE for the comprehensive reset of aging Caravan aircraft. The new Cessna 208 Special Inspection Document (SID) Reset program provides operators a cost-effective solution to mitigate costly downtime brought on by the burdensome inspection requirements associated with aging aircraft concerns.
"We continually work toward developing innovative solutions with our primary goals being cost savings and downtime reduction for operators," said Kim Wilmes, CEO. "We are very excited to offer Caravan customers a cost effective solution for the 20K hour milestone."
"Much of our 21 years in business has been spent supporting the Caravan Operators for their maintenance and repair needs," stated Craig Wilmes, COO. "Our extensive experience in the 20k inspections has helped us to develop and offer an incredible Caravan reset STC option."
Metal Innovations is now accepting slot reservations for the STC #ST02549SE Cessna 208 and 208G Caravan Reset Program. Please contact a representative to schedule your aircraft.
About Metal Innovations Inc.
Headquartered at the Aurora State Airport in Aurora, Oregon. Metal Innovations Inc. (
www.metalinnovations.com
) is an FAA Certified Repair Station #KW7R756N, PMA Authorized critical parts Facility, Cessna Service Center, and Certified WBENC WOSB providing over 21 years of impeccable and innovative repair, maintenance, modification, and manufacturing services for the air carrier, air cargo, corporate, and rotor wing markets. Metal Innovations Inc. is a leader in providing complete solutions for Cessna 208 Caravan operators including anything from minor repair and maintenance to major structural repair and 20k hour inspections.
Contact:
Craig Wilmes
Metal Innovations Inc.
22215 Yellow Gate Lane NE.
Aurora, Or. 97002
PH: +1 (503) 678-2807
E-MAIL: craig.wilmes@metalinnovations.com