Machine Harvest Your Asparagus
Geiger-Lund's new selective asparagus harvester was field tested this past spring on a field near Nyssa Oregon. The machine successfully harvested asparagus. The new machine can replace hand labor for the harvesting of asparagus.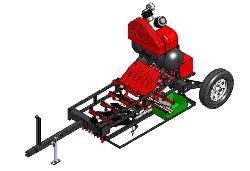 Stockton, CA, July 31, 2017 --(
PR.com
)-- The new Geiger-Lund selective mechanical asparagus harvester had its debut in Nyssa, Oregon this spring (2017). Geiger-Lund spent the season working out the bugs of the new design and the machine is now ready for marketing.
The harvester has a recommended harvesting speed of 2-3 mph and recovers about seventy five to eighty percent of the spears when compared to a hand crew. The machine fills lug boxes with oriented spears, all pointing in the same direction.
Previous machines required one or more workers to sort the spears and put them in the boxes. The new machine eliminates the human labor and puts the spears in the boxes mechanically.
The most expensive part of machine harvesting is still the human labor involved. By eliminating the "on machine" labor, the cost of harvesting drops significantly.
Flexibility is another major advantage of machine harvesting. Since all you need are tractor drivers for harvesting the asparagus, you can make last minute decisions about when to harvest without worrying about whether or not you can get a crew together. The Geiger-Lund machine can even be run 24 hours a day.
The harvesters are custom built to fit the grower's row centers and the desired number of headers on the machine. Geiger-Lund can build one, two, three or four row machines as tractor pull type machines or they can be built to be mounted to the tractor with a 3 point hitch.
For more information and all the details about Geiger-Lund harvesters please visit Geiger-Lund Harvesters' website at
www.asparagusharvester.com
.
Contact
Geiger-Lund Harvesters
Bill Lund
503 819 0851
http://www.asparagusharvester.com

Contact