Pharaoh, Sobek II, Takes Readers on Best Egypt Adventure Ever
New science fiction book by Allen Pollens "GIFT OF THE PHARAOHS – Renaissance Egypt" is high action from beginning to end. It starts with the awakening of a 5000 year old Pharaoh from his deep slumber. It continues with the Pharaoh's amazing quest to create an Egyptian renaissance.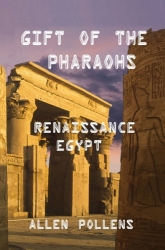 Beaverton, OR, July 31, 2017 --(
PR.com
)-- It all began in 3150 BC with the Egyptian civilization that resulted from the unification of Upper and Lower Egypt under the first Pharaoh. It was the start of a history of many stable kingdoms.
The achievements of the ancient Egyptians included quarrying, surveying and construction of monumental pyramids, temples, and obelisks. Its remains, the ruins up and down the Nile River, have inspired the imaginations of travelers and writers for centuries.
In "GIFT OF THE PHARAOHS," Pharaoh Sobek II, revived from his long sleep, is introduced to modern day Egypt. The Pharaoh declares that Egypt's future lies in its past and begins a determined crusade.
"GIFT OF THE PHARAOHS" offers 80 images of historic sites up and down the Nile, all in color in the Kindle edition.
"GIFT OF THE PHARAOHS" is available at Amazon.com in print and for Kindle. The current price for the print version is $14.99 and Kindle just $2.99.
Follow this link:
tinyurl.com/ydhfq2z4
Contact
Pollens Books
Allen Pollens
503-521-9681
storyteller-spot.com
503-407-2850

Contact