American PetroLog is Awarded Texas Mutual Insurance's Safety Grant
Safety grant has been awarded to American PetroLog's Venus, TX transload and storage terminal serving BNSF Railway.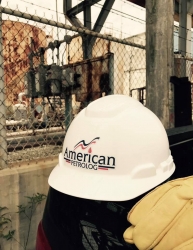 Austin, TX, August 04, 2017 --(
PR.com
)-- Texas Mutual Insurance Company, the state's leading workers' compensation provider, has named American PetroLog a recipient of a safety grant in their newly created program that provides funds to be used toward the cost of personal protective equipment (PPE) or other safety-related equipment. American PetroLog's Venus, TX Terminal Manager, Earl Dickey, stated that "My primary focus is maintaining a safe workplace and keeping our Venus, TX facility claim free by adhering to our safety procedures. My obligation to my team is to get them home safely every night."
Texas Mutual Insurance Company insures 68,000 business and 1.4 million workers in the state and their commitment to keep Texas workers safe is one of the main reasons that American PetroLog chose them as their insurance provider. American PetroLog's President & CEO, Jeff Colonna added "We are proud to have Texas Mutual as our partner and we appreciate being chosen as a recipient of this safety grant. This grant will allow us to continue to expand our safety program and ensure that we keep our team members safe, we prevent customer claims and we continue to grow as a good neighbor in the Venus, TX community."
American PetroLog is an asset based transportation and logistics provider focusing on providing solutions to the petrochemical industry. With operations in seven locations throughout the country, American PetroLog is positioned to service their growing customer base.
www.AmericanPetroLog.com
www.facebook.com/americanpetrolog
www.linkedin.com/company-beta/10043281
Contact
American PetroLog, LLC
Jeff Colonna
856-536-0055
www.AmericanPetroLog.com

Contact