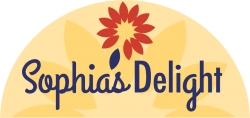 New York, NY, August 07, 2017 --(
PR.com
)-- Sophia's Delight™ Savory Tartes are ideal for a healthy, on-the-go lifestyle. These single-serve delicious tartes are transforming the specialty, non-GMO, and gluten-free food industry.
"When our daughter, Sophia, was diagnosed as a toddler with Celiac Disease and a severe nut allergy, we developed a variety of healthy non-GMO, gluten-free recipes replacing the overly processed foods that were available at that time," says Elizabeth S. Kopelman, owner of Sophia's Delight Bakery.
Based on the lack of grab & go, healthy-for-you choices, Sophia's Delight has come to market with two of their best savory tartes. These tartes have a delicious light crunchy gluten-free crust that Sophia's Delight is famous for.
The popular Gourmet Gluten-Free Mushroom Swiss Tarte. Mushrooms coupled with the nutty flavor of swiss cheese, and a hint of onion, gives this tarte a depth of flavor you will absolutely love.
The Gourmet Gluten-Free Spinach Ricotta Tarte. It has a creamy ricotta cheese that enhances the layers of spinach with just a hint of nutmeg for a flavorful, satisfying experience.
Over 80% of Americans purchase food based on label listings according to a June 2016 study by the Pew Research Foundation.
These vegetable tartes are made with non-GMO, whole grain gluten-free flours, and baked with natural ingredients including pure butter, eggs, and cheese. They are low glycemic, which promotes slow digestion and the absorption of valuable nutrients, minerals, and antioxidants. Protein values range from 20% - 28%, making this a truly better for you on-the-go meal.
"No more sacrificing quality food for an on-the-go lifestyle. These delicious and better for you
grab & go better for you savory tartes
are perfect for a healthy breakfast, lunch, or light dinner. Our tartes are free from artificial preservatives, food dyes, and baked without nuts, corn, sugar, soy, and gluten," says Kopelman. "Better still, the recipes are baked in a certified gluten-free, Kosher, and dedicated nut and peanut-free facility."
Sophia's Delight has launched their products online at
SophiasDelight.com
where you can also read more about their story. Place an online order for a case of 6 or more (combo case, optional) beginning August 7th for
home delivery the week of August 14th, 2017. Scheduled locations/days for delivery: Manhattan - Wednesdays, and Bergen County, NJ - Thursdays.
1% of all proceeds will be donated to the Celiac Disease Center at Columbia University NY, NY.