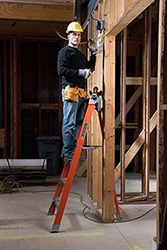 Louisville, KY, August 11, 2017 --(
PR.com
)-- To keep ahead of industry demands, Louisville Ladder has renovated their Tripod ladder with updated features and a lighter presence. Designed for plumbers, electricians, general contractors, and construction crew, the Tripod ladder is the perfect complement to round out all your ladder category needs.
Users are looking for products that are safely going to help them get their job done. Louisville Ladder has used that mentality when redesigning this product. It is made up to 15% lighter to help prevent sprains and lifting injuries. The top comes in at 14" wide, fits through open studded walls, and angles to the wall so the work can be closer to the user and prevent over-reaching. Only having 3 legs allows the ladder to always have 3 points of contact and can go over toilets and other objects so the user doesn't have to improperly position a ladder to get to those hard to reach spots.
For the first time, you get full access to the width of a Tripod ladder. The outriggers have been completely removed and allow full movement while working. Other updated features include the Raptor top with heat transfer Duty Rating. The heat transfer top is scratch and UV resistant and will reduce OSHA fines for missing duty rating labels. Keep a steady work flow by having all your tools within reach. The Raptor boots are on all three legs and deliver maximum protection and durability.
About Louisville Ladder®:
Louisville Ladder, headquartered in Louisville, KY, is one of the largest manufacturers and distributors of climbing equipment in the world for residential and professional applications. For more than 70 years, Louisville Ladder has pioneered industry shaping innovations including the industry changing Cross Step™ 2 into 1 ladder series, its patent pending Maxlock™ Rung Lock, patented QuickLatch® rung-lock system, Raptor Top™ work tray, Raptor Boot™, and SHOX™ impact absorption system. With forward-thinking design and state-of-the-art manufacturing processes, Louisville Ladder is committed to delivering innovative, professional grade climbing products that meet and exceed the demands of modern-day jobsites. Learn more at louisvilleladder.com.