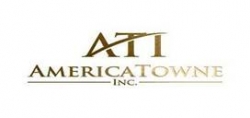 Raleigh, NC, August 11, 2017 --(
PR.com
)-- AmericaTowne, Inc. and its subsidiary, ATI Modular Technology Corp., announced today that, in collaboration with L.F.T.E., Inc., a North Carolina corporation, its post-merger entity – AmericaTowne Holdings, Inc. has signed a Memorandum of Understanding for the development and construction of its headquarters in the Triangle area in Raleigh, North Carolina utilizing tradesmen experienced in modular construction with an eye towards advancing ATI Modular's technologies and know-how in the United States and in China.
AmericaTowne's Chief Executive Officer, Alton Perkins, commented, "With the pending merger of AmericaTowne and ATI Modular into one entity – AmericaTowne Holdings, management is of the opinion that our anticipated growth models require us to expand and modernize our headquarters. AmericaTowne Holdings will be operating AmericaTowne's and ATI Modular's businesses as subsidiaries. As a result, the need to operate these two businesses, and any future businesses falling under the AmericaTowne Holdings' umbrella will require a state of the art facility with conference, meeting and training facilities. We believe our partnership with L.F.T.E. will allow us to accomplish our objectives."
About AmericaTowne and ATI Modular
AmericaTowne is incorporated in the State of Delaware. AmericaTowne's objective is to provide upper and middle-income consumers in China with "Made In The USA" goods and services allowing customers to experience the United States' culture and lifestyle. In addition, AmericaTowne sees opportunities in developing countries, such as Africa, in implementing business solutions considered mainstream in America, but relatively new in these developing countries. AmericaTowne is deploying resources, research and expertise in evaluating these opportunities as part of its overall growth model.
ATI Modular Technology Corp. is incorporated in the State of Nevada (www.atimodular.com). ATI Modular is a related party to AmericaTowne by virtue of AmericaTowne's majority and controlling interest. The intent is for ATI Modular to provide AmericaTowne, and other unrelated parties, in developing countries, in introducing, implementing, educating and facilitating the benefits of modular construction. ATI Modular is a publicly reporting company, and is listed on the OTC Pink as "ATMO." As set forth in prior filings and releases, ATI Modular will be the surviving company following the merger with AmericaTowne, and will be amending its articles with the State of Nevada changing its name to AmericaTowne Holdings. AmericaTowne and ATI Modular will continue to operate, but as assumed names of AmericaTowne Holdings.
Both entities are publicly reporting with the United States Securities and Exchange Commission, and their respective quarterly and annual reports, and periodic disclosures may be found at www.sec.gov/edgar and also at www.americatowne.com or www.atimodular.com. The merger set forth above has been disclosed in prior filings of the company and is still pending effectiveness. ATI Modular also has a company-related action pending with the Financial Industry Regulatory Authority.
Forward Looking Statement
This press release contains forward-looking statements that relate to expectations, beliefs, projections, future plans and strategies, anticipated events and similar expressions. Forward-looking statements may be identified by use of words such as "may," "will," "should," "expects," "intends," "plans," "anticipates," "believes," "estimates," or "potential" or similar words or phrases which are predictions of or indicate future events or trends. Statements such as those concerning potential acquisition activity, investment objectives, strategies, opportunities, other plans and objectives for future operations or economic performance are based on the Company's current expectations, plans, estimates, assumptions and beliefs that involve numerous risks and uncertainties. Any of these statements could prove to be inaccurate and actual events or investments and results of operations could differ materially from those expressed or implied. To the extent that the Company's assumptions differ from actual results, the Company's ability to meet such forward-looking statements may be significantly and negatively impacted. You are cautioned not to place undue reliance on any forward-looking statements and the Company disclaims any obligation to publicly update or revise any forward-looking statement to reflect changes in underlying assumptions or factors, new information, future events or other changes.
Contact: Alton Perkins, 919-436-1888, ap@americatowne.com; ap@atimodular.com
www.americatowne.com
Source: AmericaTowne and ATI Modular Technology, Inc.