WBC Launches Managed Cloud App Operations (AppOps) Using Appranix ServiceFormation Cloud Platform
The strategic partnership helps WBC Software Consulting's customers to re-platform and simplify enterprise cloud app operations through ServiceFormation technology and delivers measurable SLAs for operating applications on the cloud platforms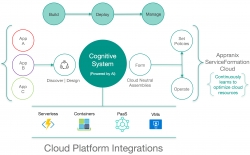 Boston, MA, August 17, 2017 --(
PR.com
)-- Appranix and WBC Software Consulting, a specialized managed application services provider, today announced a strategic partnership to help customers simplify cloud transformation efforts with application re-platform and operations automation on AWS and Azure using Appranix ServiceFormation cloud.
Background
As enterprises move more and more applications to the cloud platforms, legacy data center operation management tools or home grown open source based operations tools are inadequate to handle the dynamic, service-centric nature of the cloud platforms to manage and deliver sufficient SLAs for the applications.
Appranix's ServiceFormation technology automates and simplifies application operations on cloud platforms. It's unique app-centric, real-time, cognitive automation platform assembles cloud services with unprecedented visibility and control from application point of view so application ops teams can deliver measurable SLAs to business units.
The Cloud Re-platform and AppOps Wave
Appranix's platform allows next-generation managed service providers like WBC to simplify enterprise application re-platforming and operations automation to their customers that delivers value within a day.
Under the agreement, WBC customers in the US and India will have access to the ServiceFormation cloud immediately for automating application operations on the cloud platforms.
"With Appranix's ServiceFormation cloud, WBC customers can radically simplify enterprise application re-platform efforts on AWS and automate the entire operations end to end," says Palaniappan, co-founder of WBC Software Consulting.
"WBC Software Consulting is a strategic partner to Appranix. As enterprises realize the benefits of ServiceFormation technology, next-gen managed services organizations like WBC Software Consulting will stand ready to help them," says Govind Rangasamy, Founder and CEO of Appranix.
About WBC Software Consulting
WBC is a 22 years organization built on trust by its customers and employees in various software support services and consulting joining with new leaders in the team marching towards building a center of excellence.
About Appranix
Appranix's ServiceFormation technology assembles cloud services and automates application operations across multi-cloud platforms. ServiceFormation's app-centric, real-time, cognitive automation continuously optimizes cloud resources so application operations teams can focus on delivering measurable SLAs for existing and cloud native applications. For more information, see www.appranix.com or follow us on Twitter @appranix1
Contact
Appranix
Bhuvana Palaniappan
508-656-0756
www.appranix.com

Contact