Hot Yoga Inc Celebrates Their 7th Anniversary
Today Hot Yoga Inc. announced plans to host their 7th Anniversary Party for their Bellevue Studio, set to take place on-site Saturday, August 19th, 2017, to celebrate seven years of holistic wellness with a growing yoga community.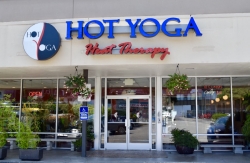 Bellevue, WA, August 18, 2017 --(
PR.com
)-- Over the past 15 years, Hot Yoga Inc. has become one of the largest and most inclusive yoga communities on the west coast. Voted King 5's Best of Western Washington since 2010, they have been committed to improving the health and well-being of each of their students, and community as a whole.
Visit their newly remodeled studios for an array of challenging classes including: Hatha, Power, Barre, Pilates, Sculpt, and their one-of-a-kind Art Yoga Wall at the Federal Way studio.
The studios infrared heating that help to relieve the body of inflammation, stress, chronic pain, increases cell turnover, and detoxifies the body. The head also helps with weight loss, burning up to 1200 calories per class.
Hot Yoga Inc.'s mission is to build a community of like-minded people working toward better health and holistic wellness.
About Hot Yoga Inc.
Hot Yoga Inc. is locally owned and operated by Linda Burch who has dedicated her life to helping men and women transform their lives. Kirkland, Washington is where she opened her first studio and now has expanded her mission to locations in Bellevue, Covington, Mill Creek, Northgate, Puyallup, and Federal Way. Linda and her team have been training the top Yoga teachers around the Pacific Northwest for over a decade. If your looking for a rewarding career visit www.hotyogainc.com for more information about the teacher training program.
Contact
Hot Yoga Inc.
Jessica Berg
425-422-4080
Hotyogainc.com

Contact