Steve's Real Food Introduces Two New Ways to Effortlessly Enhance a Kibble Diet Using Freeze Dried Eggs and Goat Milk
Innovations in pet food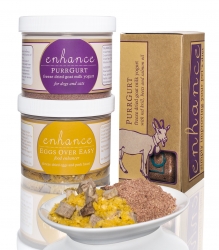 Cottonwood, UT, August 30, 2017 --(
PR.com
)-- Steve's Real Food is introducing two new products to their wildly successful Enhance line. Eggs Over Easy and PurrGurt are the latest additions to a line of products designed to elevate the health of cats and dogs by providing functional raw nutrition designed to supplement a pet's current diet. CEO, Nicole Lindsley, comments that "retailer feedback so far has been phenomenal. It is an easy sale that they feel good about doing."
Even the highest quality kibble or canned pet foods lack raw ingredients and the numerous benefits and bioavailable nutrition they provide. Eggs Over Easy and PurrGurt are freeze-dried raw products, so each is able to deliver raw nutrition in a convenient, easy-to-feed way.
Eggs Over Easy is a 100% protein-based food enhancement with only two freeze-dried ingredients - whole egg and pork heart. Eggs provide digestible protein and correctly balanced fats, as well as over 13 essential vitamins, minerals, and nutrients such as choline and biotin. Pork heart is one of the most nutrient-dense muscle meats available, containing abundant amounts of iron, Vitamins A and B12, and copper. This is the perfect formula to provide a source of bioavailable protein rich in essential nutrients, including the tools needed to properly metabolize protein in the body.
Purrgurt is a feline-facing, goat milk based formula designed to address urinary health of cats commonly found in cats. Ingredients such as goat milk, nettle, couch grass, L-lysine, and marshmallow root help support renal, upper respiratory, and immune system health. Though this formula was created with cats in mind, it is purrfect for dogs too!
Eggs Over Easy is available in an 5oz. tub and retails for approximately $14.99. Purrgurt is available in both a 1.6oz. reusable glass milk bottle for $10.99 and an 8oz. refill tub for $24.75. Both of these new exciting products are available for purchase now.
About Steve's Real Food: Steve's Real Food has been producing raw pet food since 1998. The product line has expanded to include freeze diet diets, raw frozen goat milk yogurt and the new Enhance line, a set of innovate products geared to create a simple way for pet parent improve their pet's current diet.
Contact
Steve's Real Food
Nicole Lindsley
801-432-7478
stevesrealfood.com

Contact