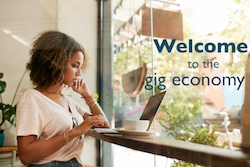 Toronto, Canada, September 01, 2017 --(
PR.com
)--
findgreatminds.com
is a new freelance platform built specifically for PhDs. PhDs can now access businesses looking for the best minds to solve AI, Blockchain and Quantum Computing challenges, or even to develop a new HR Policy for millennials.
The Power of Great Minds
North America is producing roughly 60,000 PhDs per year, and yet, according to the National Science Foundation, 40% of them are not finding jobs. This is a waste of talent when the United States and Canada still lag behind their global peers in innovation. Findgreatminds.com was created to solve these problems; to fuel innovation, and find meaningful employment opportunities for PhD graduates.
"It's exciting to see so many PhDs signing up to make the transition from academia to business," says Ian Macfarlane, Co-founder, findgreatminds.com. "We believe this site presents an unparalleled opportunity to drive innovation in business by giving them access to the greatest minds (PhDs)."