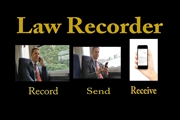 Watertown, NY, September 05, 2017 --(
PR.com
)-- The new
LawRecorder
app is the first to let users upload, view and record from templates and forms. No other transcription app provides this feature. LawRecorder provides transcription on the go for busy professionals. Transcriptions are completed by English speaking U.S. transcriptionists and sent right to the user's phone and e-mail. Formatted transcriptions are completed in 24hrs or less.
LawRecorder is downloadable on
Google Play
for Android and the
i-Tunes
store for IOS. Transcriptionists with extensive experience in Legal and General transcription are available 24/7 to provide expert service. LawRecorder works extremely well for lawyers, paralegals, social services workers, real estate brokers, financial services professionals, or anyone with the need for high quality formatted or general transcription.
Documents such as legal pleadings, motions and memorandums of law can be provided. Case summaries, interviews, meetings, or just notes to staff are simple to record and submit. Word and Address lists, and Notes to transcriptionists are all available on the app.
Until now, mobile transcription services have been limited by the inability to provide formatted transcriptions from templates and forms. Users could only receive straight transcriptions. LawRecorder now provides the essential service of formatted transcription not available before in a mobile app.