Texas OCC is Coming to Help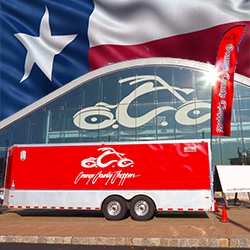 Newburgh, NY, September 04, 2017 --(
PR.com
)-- Orange County Choppers and the Hudson Valley SPCA to Help Hurricane Affected Families and Animals in Texas
Orange County Choppers (OCC) and the Hudson Valley SPCA (HVSPCA) jointly announced efforts to provide assistance to humans and animals affected by hurricane Harvey in south Texas.
As we have all come to know, On August 25th, 2017 a massive Category 4 hurricane, named Harvey, slammed south Texas. So far, Harvey has caused 38 deaths and as of today an estimated $58 Billion in damage. It is the worst disaster in Texas history and recovery will take years. With more than 100,000 homes no longer habitable, thousands of families, their pets, and farm animals are without shelter.
Paul Teutul, Sr., founder of Orange County Choppers stated, "Most of you already know that I am a huge animal lover and I am currently also the Vice President of the Hudson Valley SPCA. Over the past week we have sheltered 17 animals that have arrived from Texas and many more are on the way. After seeing this first hand I feel the need to do something more. I know that if we all come together we can make a difference!"
During the week of September 11, OCC will be sending a trailer filled with locally donated food, water, blankets and other necessities to help the people of Texas. Paul Sr., Joan Kay, President of Hudson SPCA, and OCC staff will personally transport and deliver these necessities. If you would like to help, you can donate non-perishable foods, bottled water, blankets, toiletries, and other necessities. Donations will be accepted at OCC and the HVSPCA until September 10th, 2017. Donations may be dropped off at the following locations:
Orange County Choppers
14 Crossroads Court
Newburgh, NY 12550
Hudson Valley SPCA
940 Little Britain Road (Route 207)
New Windsor, NY 12553
In addition to delivering the locally collected items, Paul Teutul Sr. will donate a custom motorcycle being designed for Texas and will be auctioned off live in Houston on Thursday September 14th, 2017. The public auction will be held at Jim "Mattress Mack" McIngvale's Gallery Furniture store located at 6006 North Freeway, Houston, TX 77076. Provisions will be made for bidders to participate in the auction via the internet. Please stay tuned to OCC's website and Facebook for details regarding the time of the auction, bidder pre-qualification, and specifications and images of the custom motorcycle.
About Orange County Choppers
Orange County Choppers (OCC) is a world famous custom motorcycle manufacturer founded in 1999 by Paul Teutul Sr. At their facility based in Newburgh, NY, Paul Sr. and his team of custom fabricators design, engineer and manufacture unique choppers. Orange County Choppers has been the center of the hit TV reality series "American Chopper." American Chopper debuted in September 2002. They continue to entertain millions of people worldwide on a weekly basis. OCC bikes are customized and built around a theme or, increasingly, for a broad spectrum of motorcycle enthusiasts around the world.
About the Hudson Valley SPCA
The Hudson Valley SPCA is a No Kill, Non-Profit shelter in New Windsor NY. The HVSPCA is a leader in the fight against animal abuse and neglect. The dedicated staff and volunteers work tirelessly to protect, defend and find homes for all animals in need. This is all done without funding from any municipality.
If you would like more information about this topic, please contact Franco Porporino, Jr. at (973) 419-2800 or email at franco@orangecountychoppers.com
Contact
Orange County Choppers
Franco Porporino, Jr.
973.419.2800
orangecountychoppers.com

Contact