North America's Largest Solar Trade Show Unveils Portable Solar-Thermal Hybrid Generator
Experience Power Panel's Gen-2-O system hands-on for the first time at Solar Power International in Las Vegas.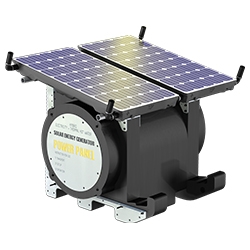 Detroit, MI, September 08, 2017 --(
PR.com
)-- Solar Power International (SPI) will showcase a Dual-Panel Gen-2-O model on the floor at the Power Panel booth #6521 from September 10th to the 13th, right across from the Smart Energy Microgrid Demo. Attendees can see the compact footprint for themselves and feel the resilience of the incredibly durable components. The sturdy dual-paneled system is engineered for maximum portability, ease of installation, and simplicity of use. It excels in diverse applications, including off-grid living, industrial sites, and military operations.
The dual-panel system delivers a sizzling 1,270 Watts at peak performance and is expandable to four or six panels to enhance power production. The entire setup can be monitored from anywhere on the globe with a smartphone or laptop through the versatile web-connectivity software suite. Designed with the toughest jobs on the planet in mind, it is optimized for rapid deployment, minimal maintenance, and requires no specialized technical knowledge to operate.
As part of their ongoing efforts to expand their role as global stewards and suppliers of dependable energy solutions, Power Panel hired John Eubanks as COO, who had this to say:
"After doing extensive research on the many solar technologies on the market today, I'm confident that Power Panel's solar-thermal systems are the ultimate answer to our energy challenges. No other system impressed me with its ability to perform with excellence in such a wide variety of environmental conditions as Power Panel's Gen-2-O."
Eubanks added, "When people see the Gen-2-O in person, the effect is dramatic. Everything about it shouts reliability at first sight. I think that is part of what motivated the Society of American Military Engineers (SAME) to team up with us to tackle the energy crisis we face not just as a country, but as a global community."
Visit the Power Panel booth #6521 at SPI at the Mandala Bay Convention Center in September 2017 to witness the revolutionary Gen-2-O. For more information about Power Panel's technologies, visit www.powerpanel.com.
Contact Information:
Email: info@powerpanel.com
Phone: 313-355-4023
Contact
Power Panel
Conrad Eskelinen
(313) 355-4023
www.powerpanel.com

Contact