TrainChange Fitness Introduces Revolutionary New Product Line, ALLN-1
ALLN-1: LifeLong Fitness Weight Loss Journey to Inspire People Online.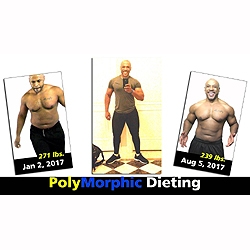 Sammamish, WA, September 26, 2017 --(
PR.com
)-- Al Smith, founder of TrainChange Fitness, invites individuals to join him in a balanced and healthy approach to weight loss. While other fitness companies are directing individuals to take on deprivation methods such as avoiding carbs, the fitness guru teaches people how to lose weight and get in shape while still being able to enjoy fast food and other guilty pleasures occasionally. The company's revolutionary new product line, ALLN-1®, incorporates a customizable home fitness system, beneficial supplements and nutrition consulting.
"I designed the fitness solution after a long journey, in which I decided that I didn't want to spend the rest of my life counting calories," said Smith. "I'm inviting others to rethink everything they've learned about dieting, and I'm sharing my experience by documenting my own 'before and after' journey."
More than 13 years ago, Smith wrote, "TrainChange: Fat Loss," a successful book that outlined weight loss techniques. Since he has become older, he determined that a strategy upgrade was needed, one that is simple, easy to follow and more effective. Frustrated with the fakeness of the fitness industry, where fitness companies showcase unrealistic images of fake models, he introduced the ALLN-1 LifeLong Fitness implementation plan to help people set real fitness goals.
TrainChange has coined the term polymorphic dieting, and encourages individuals to implement a fitness and nutrition system that works best for their bodies. One of the company's new offerings, the ALLN-1 Exercise Bench, was developed to offer more than 174 exercises and cardio routines, which people can do in their own home. With the purchase of the equipment, individuals enjoy a three-month subscription to online nutrition planning, exercise routines, progress tracking and polymorphic dieting consulting.
Smith is passionate about helping people fuel their bodies with beneficial supplements to aid in attaining fitness goals. ALLN-1 brand supplements help with appetite control, energy and recovery. Incorporating these into a fat loss regimen allows people to attain life-long results.
TrainChange Fitness shares its developments at
http://ALLN-1.com
. Smith's health journey can be viewed through a few videos including this one:
https://www.youtube.com/watch?v=zjlfOZ2-jdU&index=2&list=PLC2FC3BAE6F4CE826
Contact
TrainChange Fitness
Al Smith, Jr.
888-858-7746
TrainChange.com

Contact
Multimedia
Ideally suited to use in the home or in a commercial setting, the ALLN-1(TM) Exercise Bench is a unique and multifaceted piece of fitness equipment. The ALLN-1(TM) is the first piece of fitness equipment that allows you to effectively train your upper body, lower body, abs and cardio.