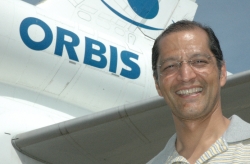 Phoenix, AZ, September 26, 2017 --(
PR.com
)-- Dr. Pravin U. Dugel, managing partner, Retinal Consultants of Arizona – one of the nation's leading Retina & Vitreous academic, clinical research and patient treatment facilities, has been elected to the Orbis International Board of Directors. Orbis International is a global non-profit dedicated to addressing the tragedy of avoidable blindness in the developing world.
"I am extremely honored to join the Orbis Board of Directors as it continues its fight against avoidable blindness for millions of people living in some of the world's most impoverished countries," said Dr. Dugel, managing partner, Retinal Consultants of Phoenix, AZ; clinical professor, USC Roski Eye Institute, Keck School of Medicine, University of Southern California, Los Angeles, CA; physician executive director, Phoenix Eye Institute, Banner University Medical Center, Phoenix, AZ. "As a volunteer faculty member since 2010, I have seen the impact of Orbis' work first hand. I have seen the desperation and tragedy of people living with blindness that can be treated or cured and Orbis' approach to partnering with, and training, local ophthalmologists and eye care professionals is like no other. Its impact transcends geography and holds the promotion of human welfare deep within its heart."
Orbis is an international non-profit that brings people together in the fight against avoidable blindness. Its mission is to transform lives through access to quality eye health. Together with its partners, it trains eye care teams, strengthens eye health systems and works on the ground to provide lasting solutions to communities in need.
Dr. Dugel serves as the managing partner of Retinal Consultants of Arizona and founding member of the Spectra Eye Institute. Dr. Dugel is a world-renowned retinal specialist who has authored more than 200 papers, 35 book chapters and has been invited to lecture at prestigious meetings, Visiting Professorships and Universities worldwide. He is on the Editorial Board of several major medical journals. Dr. Dugel is internationally recognized as a major clinical researcher, having been a primary investigator in over 50 multicenter clinical trials. His research and educational contributions earned him the prestigious Senior Honor Award from the American Academy of Ophthalmology (AAO). Dr. Dugel is an active philanthropist offering time, expertise and support to many charitable organizations throughout the world.
About Retinal Consultants of Arizona
Retinal Consultants of Arizona (RCA) was established in 1980 in central Phoenix. Since then, it has grown to be the largest retina group in the state, with more than 35 locations throughout Arizona, providing improved access to the highest quality medical eye care. RCA also manages the country's leading independent clinical research & trials facility, Retinal Research Institute, where RCA physicians participate in clinical trial research studies to advance the diagnosis, treatment and management of the retina, vitreous and macula - www.retinalconsultantsaz.com.