Independent Recording Artist/Composer Bruce Mack Releases 2 Singles, "All That Gloom" and "Double O Nobody"
Vocalist/keyboardist/teaching artist Bruce Mack, of the band Burnt Sugar the Arkestra Chamber, independently releases 3rd single from his forthcoming album "Lo-Fi Exploits Of A Misplant On Shaolin" titled "Double O Nobody" b/w "All That Gloom," as he works on music for another upcoming project. Release date: October 25, 2017.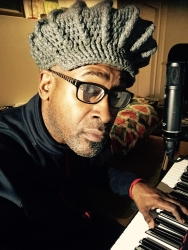 New York, NY, October 03, 2017 --(
PR.com
)-- Vocalist/keyboardist Bruce Mack and Independent entertainment company Fuzion Entertainment are happy to announce the release of 2 singles titled "All That Gloom" and "Double O Nobody," from Bruce Mack's forthcoming album "Lo-Fi Exploits Of A Misplant On Shaolin." Together they serve as the 2nd release from that album, following "Transparent Matter" which was released in April (2017). Both will be available in all digital retail outlets October 27th, 2017.
Both songs (All That Gloom and Double O Nobody), written, performed, and produced by Bruce Mack, represent Mack's rise and determination to remain creative despite the loss of nearly everything resulting from 2012's Hurricane Sandy, while living on Staten Island aka "Shaolin."
Mack also felt this event had some karmic value, as noticed in "All That Gloom," a jazzy dream-pop song (w/guest Rene Ojeda on acoustic bass) that speaks about overcoming guilt, dejection, recognizing the value in all that is readily available to one, and using it all to move forward.
"Double O Nobody" on the other hand, is an uptempo dance song with no lyrics, but a melody, scatted by Mack, conveying weightlessness and joy after recognizing that in the face of nature, we are nothing more than what we are. "One of my favorite cuts off the album - bright and sneaky." - John Noyd of Maximum Ink, about "Double O Nobody."
Bruce Mack (aka "B-Mack" - co-founder of 80's R&B/punk band PBR Streetgang) is a composer and improvisational vocalist with keyboards, percussion and bass in his cache of playable instruments.
With his song "Karma Can Be Long" in 2015, Mack was a featured artist on "Buddha Bug Records Mixtape Vol.1" produced by Luqman Brown. In 2007, Mack co-produced the trio Tricky Dilemma's "John P. Parker: A View From 9 Dimensions" with DJ Val-Inc and guitarist Marvin Sewell.
Mack is currently producing an EP to be released later this year for the band Rules Of Aquah, in which he is lead composer and frontman.
Other notable endeavors include being a founding member of Burnt Sugar The Arkestra Chamber, a bandleader of Melvin Van Peebles wid/Laxative, and former President of the Black Rock Coalition. Bruce Mack has also inspired many kids to pursue careers in entertainment, using his creative talents to teach music at the John Melser Elementary School (PS3) in the West Village, where he has split his time over the past 18 years. His work is noted in the documentary film "When Fried Eggs Fly."
For more information, contact Te Ayeshi at 973-518-1661 or email: tumultuousearwax@yahoo.com or visit:
https://www.reverbnation.com/bmack9
Contact
Fuzion Entertainment
Te Ayeshi
973-518-1661
Bruce Mack
Email: brucemack58@yahoo.com

Contact