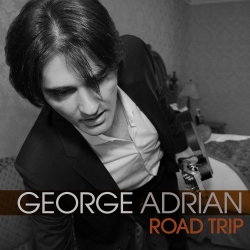 Los Angeles, CA, October 03, 2017 --(
PR.com
)-- Well-known for his live performances, George Adrian will release his newest project "Road Trip" on October 10.
George's moody and intricate story-telling will feature a video for the track "The Grass is Dying." The first video was directed by collaborator Robert Saitzyk (White of Winter/Godspeed). The introspective track was released recently and can be viewed on YouTube.
Adrian enlisted his longtime friend Tyler Bates (Marilyn Manson) for the "Road Trip" project after Bates became enamored while watching the project evolve. Bates contributed to Adrian's "Road Trip" on bass, "Tyler is known for his film compositions and his work with Marilyn Manson but he is also one of the greatest instrumentalists you'll ever meet," Adrian says. A coincidence during the same period, led to a chance meeting with Paul Beard, keyboardist and musical director (Bryan Ferry, James Blunt, Robbie Williams) who rounded out the group.
As the project developed, "Road Trip" married sophisticated and layered melodies with the mood and texture of Adrian's subsequent film and television work. The finished project evokes the passion and storytelling of Adrian's singer songwriter background.
"Road Trip" will be debuted at a Release Event at The Hotel Café on October 4 and will feature a performance by George Adrian's band. Tickets are available at https://www.hotelcafe.com