Southeastern Warehouse Association Appoints Ike Sherlock as Florida Director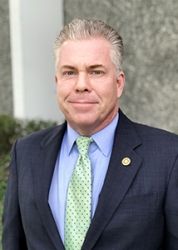 Jacksonville, FL, October 04, 2017 --(
PR.com
)-- The Southeastern Warehouse Association (SWA) announced the election of The Grimes Companies' Executive VP, Ike Sherlock, as the Florida Director. Sherlock has over 15 years of experience in transportation and logistics and received a BBS from Troy University. As the Executive Vice President, Sherlock has been a catalyst in the growth of The Grimes Companies and is deeply involved in the Jacksonville, Florida community.
"I'm very proud to be representing such an important organization in our state," Sherlock said. "Florida is experiencing unprecedented growth in both population and job creation, and the industrial warehousing sector mirrors that growth. With that in mind the Southeastern Warehouse Association will be a vital key in the continued development of Florida as a critically important hub in the supply chain."
About The Grimes Companies (www.grimescompanies.com)
Founded in 1972, the Grimes Companies is still one of the fastest growing companies based in Jacksonville, FL. Grimes offers over 40 years of experience and expertise in the logistics and transportation industry. Today Grimes boasts five successful divisions, a growing fleet of trucks, multiple 3PL warehouses in Jacksonville, and employs more than 100 logistics professionals. Through unparalleled leadership, the Grimes Companies continues to receive awards, grow and serve their clients across the Southeastern United States.
About Southeastern Warehouse Association (www.se-warehouseassoc.org)
Founded in 1919, the SWA is an organization of professional logistics warehouse companies and associate members who provide products and services to the warehouse industry! The SWA's primary purpose is to promote and sustain the integrity of the warehousing industry as an integral part of our nations global supply chain.
The SWA also believes in the importance of providing a forum for the members to develop the business and personal relationships that lead to effective networking.
Contact
The Grimes Companies
Michelle Williams
904-446-4800
www.grimescompanies.com

Contact