Elephant Aid International (EAI) Working with Puerto Rico Government to Retire Zoo Elephant to Georgia, USA, Refuge
EAI is coordinating with the Puerto Rico government to retire Mundi, a 34-year-old female African elephant, to EAI's new refuge in Attapulgus, GA; launching fundraising campaign to cover the cost of the move.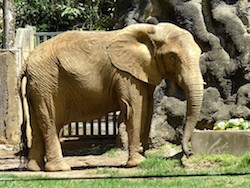 Attapulgus, GA, October 04, 2017 --(
PR.com
)-- Elephant Aid International (EAI), the leading organization devoted to the welfare of elephants in captivity, is coordinating with the Puerto Rico government to retire Mundi, a 34-year-old female African elephant, to EAI's new refuge in Attapulgus, GA, Elephant Refuge North America (ERNA).
The move had been in the works since the end of August. Mundi currently lives at the Dr. Juan A. Rivero Zoo in Mayagüez; Puerto Rico Governor Ricardo Rosselló ordered her retirement to bring the zoo into compliance with Puerto Rico's law #154, which protects the rights and welfare of animals. Given the devastating impact of Hurricane Maria, the normal timetable for such a move (weeks to months) will probably be compressed.
A representative of the office of the secretary of Puerto Rico's Department of Sports and Recreation, which oversees the zoo, reported that Mundi is well and that Maria, fortunately, left her water, food supplies and facilities untouched.
The department has invited EAI Founder and President Carol Buckley to visit the zoo next week to assess Mundi's health and living conditions. At that point, they will work out a timetable for the move.
Preparations will include health protocols for travel and logistical arrangements. EAI has contracted with Stephen Fritz Enterprises, Inc., to coordinate the move. They will provide the transport crate in which Mundi will travel and orchestrate the cargo plane and overland transport.
Today, EAI launched a fundraising campaign, Mundi's Move, to cover the costs of the move, estimated at $300,000. Donations can be made on the
EAI website
.
"We will be thrilled to welcome Mundi as Elephant Refuge North America's first resident," said EAI Founder and President Carol Buckley. "We thank the zoo and government officials for acting in Mundi's best interests."
The refuge
, an EAI project, provides a natural environment in which captive-held elephants can recover from past traumas and develop healthy bonds with caregivers and other elephants. It consists of 850 acres of lush pastures, forests, creeks and spring-fed lakes in Attapulgus, Georgia. EAI is in the process of building the infrastructure necessary to accommodate Mundi, including double fencing and a quarantine barn.
Puerto Rican government officials cited two reasons for choosing ERNA: First, its humane management philosophy allows caregivers to interact directly with its elephants without dominance, punishment or infliction of pain. Second, because the facility is a refuge and not open to the public, Mundi will be able to live out her life in a natural environment set up to meet her needs.
Mundi was one of 63 baby elephants slated for government slaughter who were airlifted to the U.S. from Zimbabwe in 1984 in what was known as the Jumbolair Project. After three years performing with a small Puerto Rico circus, Mundi was transferred to the zoo, where she has lived since 1988.
Learn more and follow the progress of the move on
EAI's website
, on
Twitter
and on
Facebook
.
About Elephant Aid International (EAI): Carol Buckley founded EAI in 2010 to improve the lives of captive elephants. EAI enlists international scientists, veterinarians, mahouts, elephant owners and elephant welfare supporters to change how the public relates to elephants; how elephant owners view their elephants; how mahouts (elephant handlers) and elephant caregivers train elephants; and how captive elephants are cared for worldwide. By providing education and hands-on assistance, EAI is working to end the suffering of elephants...one elephant at a time. Learn more at http://elephantaidinternational.org.
Contact
Elephant Aid International
Carol Buckley
(229) 465-3115
elephantaidinternational.org

Contact