KEMP Technologies Drives Faster Websites with HTTP/2 Adoption
KEMP Technologies today announced that KEMP360 Central™ is now available for Microsoft Azure Government. The solution helps government organizations simplify and streamline application delivery management for hybrid cloud environments running across Azure.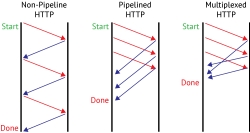 New York, NY, October 06, 2017 --(
PR.com
)-- Today KEMP Technologies®, a Gartner Magic Quadrant visionary in Application Delivery, announced general availability of full HTTP/2 proxy support across its entire line of LoadMaster ADCs, helping customers who are transitioning to HTTP/2 services.
HTTP/2 is the newest version of Hypertext Transfer Protocol and is designed to optimize the delivery of content on everything from websites to mobile apps, leading to a much better end-user experience. KEMP ADCs enable full HTTP/2 Support at the push of a button and are the only load balancers on the market to offer this, helping organizations achieve quicker time to market for HTTP/2 services. KEMP HTTP/2 Support sets a new standard in application and website performance.
Technology departments driving digital transformation projects need to iterate on services quicker, to meet the needs of staff and customers. HTTP/2 offers performance improvement capabilities that put the migration of services from HTTP/1.1 at the top of many customer project lists. KEMP shortens the time to migrate to HTTP/2 by enabling full HTTP/2 support at the push of a button. Working with a company that make things simpler and easier for customers and allows for on-demand elasticity and scale is critical for organizations operating in complex, changing environments. Enterprises choose KEMP to deliver applications and services that enhance user experience.
Enterprises, Service Providers and Federal Organizations rely on KEMP in over 40,000 deployments to help to achieve performance and security for critical workloads. "HTTP/2 is a critical component for modern workloads and with mobile continuing to outpace other forms of personal computing, it will become even more important. KEMP's Early Access and Beta of HTTP/2 support, over a year ago, gave us a lot of valuable feedback that was used to shape the Release to Market and General Availability," said Jason Dover, KEMP Director of Product Line Management.
KEMP offer HTTP/2 support as a standard feature to all its customers, making it possible to experience the fastest web performance available. KEMP customers switching on HTTP/2 support will measure the impact in seconds per page load rather than milliseconds, a massive leap compared to internet performance improvements which have come before this.
Learn more on HTTP/2
here
.
About KEMP Technologies
With over 40,000 deployments worldwide, KEMP Technologies is the industry leader in advanced Layer 2 – 7 Application Delivery. Recognized as a Visionary in Gartner's Magic Quadrant for Application Delivery Controllers, KEMP is changing the way modern enterprises and service providers are building cloud-enabled application delivery infrastructure. Over the past decade, KEMP has been a consistent leader in innovation with many industry firsts, including high performance ADC virtualization, application-centric SDN-based load balancing, innovative pricing and licensing models and platform ubiquity to support hybrid and multi-cloud requirements. Visit
http://kemptechnologies.com
for more information.
Contact
KEMP Technologies
David Quaid
(646) 885-6697
kemptechnologies.com
Director of Inbound Marketing

Contact