Palm Beach Based Jet Company Sends Relief to the Caribbean
Exclusive donates thousands of pounds of supplies to all affected by devastating hurricanes.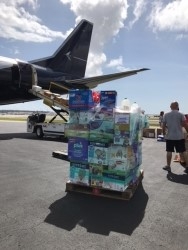 West Palm Beach, FL, October 10, 2017 --(
PR.com
)-- In the wake of the devastation of past Hurricanes, Palm Beach based private jet company, Exclusive Charter Service has been on the forefront of facilitating help as well as evacuations throughout the Caribbean. Hurricane Irma and Maria has left nothing but widespread destruction throughout the Caribbean and U.S Virgin Islands, even said to leave islands such as Barbuda "inhospitable and nothing but rubble." After two weeks the island of Puerto Rico is still 95% without power, not to mention without clean water. The aftermath of both Irma and Maria is far more disastrous, roofs of homes missing, walls dilapidated, extreme flooding, government buildings in ruins with no electricity or supplies crucial for survival. Due to all these factors, the death toll is rising rapidly.
In the short amount of time in which Exclusive has become one of the first jet companies to be cleared by Caribbean airports, they have worked as a team to make sure that all resources and evacuations are done quickly and efficiently as timing is key. "It is unfortunate when disasters happen but fortunately we can rely on aviation as the first responders in any crisis," says ECS founder Jason Johnson. In the first couple days after airport clearance, Exclusive had already delivered over 12,000 pounds of aid to St. Martin and St. Barth's, evacuated many people from St. Thomas and U.S Virgin Islands as well as a group of medical students from Anguilla. After Hurricane Maria hit Puerto Rico, Exclusive sent a couple thousands of pounds of supplies including medical, water, and meal replacements on a Lear 60 as well as a Lineage 1000. Additionally, Exclusive flew communication engineers and water sanitation employees to offer additional aid. Once landing in both San Juan International and Old San Juan, they were able to evacuate people and reunite them with their family in the U.S. Exclusive's main goal is helping people reunite with their families, and they have been successful in doing so.
Being a South Florida-based company, Exclusive was expected to receive Category 5 weather conditions resulting in electricity lost for 6 million and airport closures. Despite all of that, Exclusive was able to reach all of those in need. "We acted fast and were the first on the scene to bring medical supplies, water, clothing, food and moving people out of harm's way. Being in the industry of over 15 years, it is our duty to assist and help no matter what the cost. We have been doing so thru Katrina, Harvey and every storm that has affected Haiti. We underwent our own hurricane, and although we had damage, it paled in comparison to those in the islands. It was our top priority to offer our support and help to those thousands of people stranded," says Johnson. Currently, Exclusive is sending more than 6,000 pounds of supplies with no intention on stopping any time soon.
About Exclusive
In 2005, Jason Johnson and Adam Klein founded Exclusive Charter Service, Inc. today known simply as Exclusive. Originally designed as an On-Demand boutique membership program, the company has evolved into a full service Part 135 management firm over the past decade. With both a managed and an owned fleet, Exclusive has continued to keep the tradition of our dedicated advisors for that boutique service experience. In addition, we now offer a much larger variety of programs to meet the demands of most flyers. Exclusive is responsible for 1000's of non-scheduled flights annually and has in the past 10 years operated with 0 incidents and 0 accidents. Exclusive leads the On-Demand and membership jet charter market. Where other companies have just started membership programs, we have had a decade to perfect our membership platform.
To learn more visit
www.Ecsjets.com
, or call us at (888) 522-0883
Contact
ECS Inc.
Alexa Reisner
561-948-2798
https://ecsjets.com

Contact