Radon Awareness Ribbon Goes Live to Save Lives
Radon Awareness Ribbon Bringing Light to a Hidden Environmental Hazard.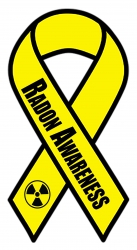 Lansing, MI, October 12, 2017 --(
PR.com
)-- Being healthy is a very important part of many people's lives throughout the country. People workout to stay in shape, eat lean and green, and take vitamins to help fight off illnesses. Many, however, are not aware of a major hidden health hazard that exists in their own homes, Radon Gas. Diana Cotton from SWAT Environmental stated; "Radon gas is described as a colorless, tasteless, scentless gas that is produced by the radioactive decay of uranium in the soil and rock."
Radon gas has been proven to be the #1 cause of lung cancer in non-smokers. Because the health hazards of radon gas are not well know, yellow ribbons with black trim have been created with the radiation symbol in hopes to bring attention to the growing issue that radon gas is causing. The new ribbon will serve as a reminder to have everyone be aware of the dangers of radon gas. "The only way to know if their are safe levels of radon gas in homes is to test the air that is lived in every day," as stated by Ms. Cotton.
The brand new awareness ribbon was introduced at the 2017 AARST International Radon Symposium in early October. Created by health experts and environmental safety advocates, it is the hope that the ribbons and the information will spread throughout our communities and help homeowners take action against the hazards of radon gas. The ribbon also serves as a tribute to those who have been diagnosed with lung cancer stemming from exposure to high levels of radon gas, and to also help decrease the amount of people affected in the future.
SWAT Environmental National Headquarters
2631 Eaton Rapids Rd., Lansing, MI 48911
(800) 667-2366
swat@swat-radon.com
Contact
SWAT Environmental
Diana Cotton
517-908-3262
swat-radon.com

Contact