Radly Bates Index Shows Increased US Entrepreneurial Activity in August 2017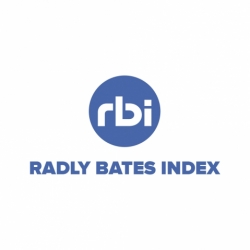 Santa Monica, CA, October 13, 2017 --(
PR.com
)-- In 2017, self employment peaked at 9.58% in February and has been declining but it did move up slightly in August. In August there were 15.15 million self employed Americans and 160.57 million employed Americans resulting in a self employed percentage of 9.44% for July, hence the RBI for August is 9.44. The RBI is released one month behind the release of Jobs data in order to incorporate subsequent adjustments in the data.
In the meantime, the September Jobs data have been released.
Domestic employment fell for the first time in seven years as a result of Hurricanes Harvey and Irma.
"It's pleasing to see a continuing rise in wage pressure," said Adam Radly, co founder of the RBI. Average hourly earnings grew 0.5 percent last month, resulting in an annual increase to 2.9 percent – the largest gain since December 2016.
The unemployment rate fell to 4.2 percent – the lowest level since February 2001. However, non farm payrolls fell by 33,000 jobs in September. The latest jobs report also increased expectations for another rate increase in mid-2018.
Following the hurricanes in Texas and Florida, initial claims for state unemployment benefits dropped 12,000 to a seasonally adjusted 260,000 for the week ended Sept. 30, the Labor Department said.
Harvey and Irma and Hurricane Maria affected claims for Texas, Florida, Georgia, Puerto Rico and the Virgin Islands. Claims shot up from a low of 236,000 in late August, hitting an almost three-year high of 298,000 at the start of September.
About Radly Bates Index
The founders of S7 Group, a private investment company based in California, Adam Radly and Bob Bates have launched a new index designed to track entrepreneurial activity in the United States.
The Radly Bates Index ("RBI") measures the percentage of the active workforce that is self employed. The Index will updated monthly at the same time as the monthly jobs data is released and is based on data from the US Bureau Of Labor Statistics.
The Radly Bates Index ("RBI") is part of the S7 Group, a private investment company that invests in small businesses directly and also raises capital for small businesses. More information about the RBI can be found here and more information about S7 Group can be found here. Adam Radly and Bob Bates can be available for comment through this email address: media@s7group.com.
Contact Info:
Name: Adam Radly
Organization: S7 Group
Address: 100 Wilshire Boulevard, Santa Monica, CA 90401, United States
Phone: +1-310-773-5280
For more information, please visit https://radlybatesindex.com/
Contact
S7 Group
Bob Bates
778-371-3479
s7group.com

Contact